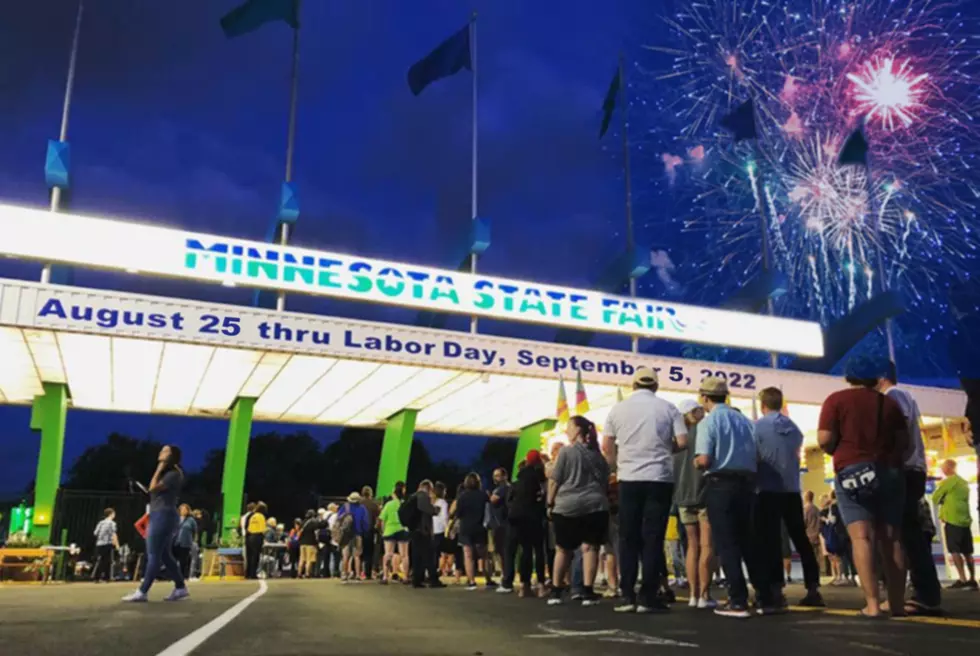 Minnesota State Fair Features 46 New Brews & Drinks for 2022 Including Some From Duluth
Minnesota State Fair
The Minnesota State Fair still has some surprises up its sleeve for this year's fair, they've just announced a whopping 46 new specialty brews and beverages will be available for 2022.
Of those 46 new drink choices, all of them are Minnesota State Fair exclusives or are premiering to the public for the first time at the fair. On top of the new beverages announced today, there are 43 returning Minnesota State Fair exclusive brews and drinks, in total the fair says there are over 300 different options offered throughout the fairgrounds.
Duluth's own Bent Paddle Brewing will be debuting their Cold IPA, they say it's "Cold and refreshing, just like a dip in Lake Superior," isn't that the truth? This brew has 6% ABV and is described as a crossover of an IPA and a lager. The Cold IPA will be available during the fair at the Ball Park Cafe.
There are also two returning brews that come from Duluth, Bent Paddle will be again offering their Summer Luvin' Orange IPA, this is their "flagship Bent Hop Golden IPA with a burst of orange and tangerine infusion," and it will be available at Andy's Grille. Blacklist Brewing Company will also be returning to the fair with their Dill Pickle Ale, available at Giggles' Campfire Grill, this brew is infused with cucumber and dill and served up with a dill pickle and a cube of cheese.
Some highlights of the other new drinks and brews announced include:
Baklava Cream Ale - From Bent Brewstillery and located at Dino's Gyros, this is a standard cream ale that is flavored with vanilla, honey, lemon, and walnuts to give the drinker the taste of the Greek dessert Baklava.
Bomba Bull Frosé All Day Slushy - Also available at Dino's Gyros, this is described as "Gray Duck Distillery Bomba Juice spirited seltzer
with a fruity fun mix of lemonade, strawberry and a kick of Red Bull served frosé slushy style."
Chili Pineapple Express Sour - This sounds amazing, this is a "pineapple sour ale is rimmed with a light coating of Tajin chili-lime seasoning." it comes in at 4.8% ABV and they say it's "Minnesota spicy". You can find this at the Ball Park Cafe.
MN Brew Together Blue Macaroon - This drink is a "pastry lager is brewed with pilsner malt, almonds, milk sugar, marshmallows, vanilla bean, lemon, coconut, and blue spirulina.' This blue drink is also available at the Ball Park Cafe.
 Piña Colager - There are several new drinks that feature pineapple, this is another one, this American lager is made with pineapple puree, lime zest, and a blend of hops that has notes of coconut and tropical fruit. Cafe Caribe is where you can find this brew.
Tropical Fruit Punch White Claw Slushy - You can find this refreshing-sounding drink at LuLu's Public House, it is a slushy featuring Mango White Claw Hard Seltzer, some Tropical Red Bull and it's topped with fresh fruit punch.
Those are just a few of the complete list of new brews and specialty drinks only found at the 2022 Minnesota State Fair. Below is the list of all the new food coming to this year's Great Minnesota Get-Together.
See All The New Food Options and Vendors for the 2022 Minnesota State Fair
The Minnesota State Fair finally got around to announcing the highly anticipated list of new foods for 2022. Highlights include a pickle pizza, a cotton candy float, and lots of new vegan options.
Minnesota State Fair Adds New Rides/Attractions Plus BINGO for 2022
The Minnesota State Fair made one of its final big announcements today with the release of the new rides and attractions being added or expanded this year.