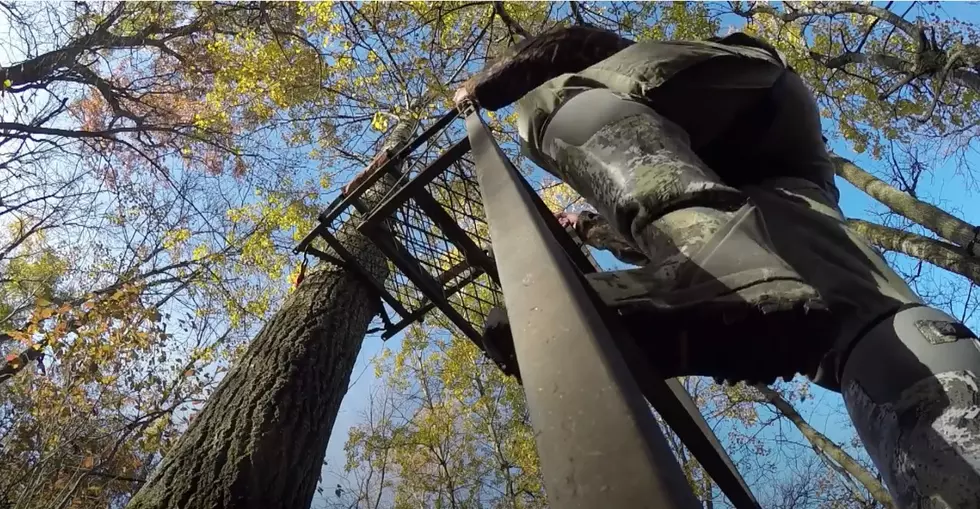 Minnesota DNR Reminds Hunters to Make Deer Stand Safety a Priority
Minnesota Department of Natural Resources
Minnesota deer hunters will soon be hitting the woods in force, with firearm season beginning Saturday, November 5 across the state.
While hunters know to be extremely careful when it comes to handling a firearm, one aspect of the hunt can get overlooked: deer stand safety. That's why the Minnesota Department of Natural Resources wants to remind hunters to also make deer stand safety a priorty.
According to the Minnesota DNR, tree stand accidents are the leading cause of injury to hunters. In fact, one in three people who hunt from an elevated stand will have a fall resulting in serious injury.
Regardless of the type of tree stand that is used, there are things all hunters can do to stay safe. The 3 Point Rule is something to always keep in mind:
Always have 3 points of contact to the steps or ladder before moving. This could be two arms and one leg holding and stepping on the ladder or one arm and two legs in contact with the ladder before moving. Be cautious that rain, frost, ice or snow can cause steps to become extremely slippery. Check the security of the step before placing your weight on it.
Other safety guidelines of note include:
Always use a haul line to pull up your gear and unloaded firearm or bow to your tree stand. Never climb with anything in your hands or on your back. Before descending, lower your equipment on the opposite side of the tree.
Always select the proper tree for use with your tree stand. Select a live, straight tree that fits within the size limits recommended in your tree stand's instructions.
Always hunt with a plan, and if possible, with a buddy. Let others know your exact hunting location, when you plan to return and, who you are hunting with.
Always carry emergency signal devices, such as a cell phone, whistle, walkie-talkie, signal flare and flashlight on your person at all times and within reach, even when you are suspended in your tree stand.
The recommended height for an elevated tree stand is less than ten feet above the ground.
Know your physical limitations. Don't take chances. If you start thinking about how high you are, don't go any higher.
While climbing with a tree stand, make slow, even movements of no more than 10-12 inches at a time. Have proper contact with the tree and/or tree stand every time you move and follow the 3-point rule.
The DNR has also produced a video that can be helpful to hunters.
Hunters of all ages will also find a wealth of helpful information, including how to recover from a fall, on the Minnesota DNR's tree stand safety page.
Minnesota's firearm season ends on November 13 in 200 & 300 Series permit areas, and on November 20 in 100 Series permit areas.
The Ten Commandments Of Top The Tater
'Top The Tater' is a staple for us here in the Midwest. I have never met a person who hasn't loved Top The Tater. However, there are people who don't understand the importance of how to eat it, and how to properly respect the little green container of joy.
How Many in America: From Guns to Ghost Towns
Can you take a guess as to how many public schools are in the U.S.? Do you have any clue as to how many billionaires might be residing there? Read on to find out—and learn a thing or two about each of these selection's cultural significance and legacy along the way.