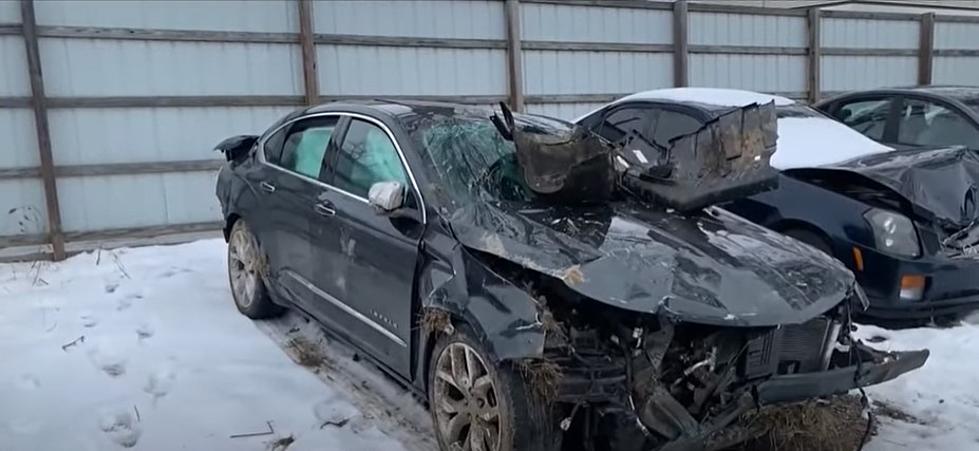 Man Survives Launching Car Over Michigan Overpass & It Was Caught On Video
Wood TV 8 YouTube
A Michigan man is lucky to be alive after falling asleep behind the wheel and launching his car over an overpass. It was caught on security cameras from a nearby business. The crash happened on US Highway 131 near Dorr, Michigan. That's south of Grand Rapids. It took place in late January of this year.
According to WOOD TV 8, the driver was showing signs of intoxication when police arrived. After he came to in the car which had landed in the grass on it's side near the on-ramp, he crawled out of the back window of the car. He had a gash on his head but miraculously survived. He was treated for injuries at a local hospital.
The 25-year-old man later told WOOD-TV 8 that he had been at a friend's house and had a couple of mixed drinks and a six-pack of beer. He then went to bed and slept for four hours before driving back home. He claims that he wasn't tired and didn't feel intoxicated when the crash happened, but admitted that he must have fallen asleep at the wheel. He said after the crash the speedometer was stuck at 75 mph.
The driver identified as 25-year-old Chandler Cockerham was also driving with a suspended license, and has previous driving-related offenses on his record. Police were investigating possible charges in the crash against the driver.
Many people have commented on social media and YouTube on how much this is similar to the Duke Boys stunts with the General Lee on Dukes of Hazzard.
READ ON: See the States Where People Live the Longest
Read on to learn the average life expectancy in each state.