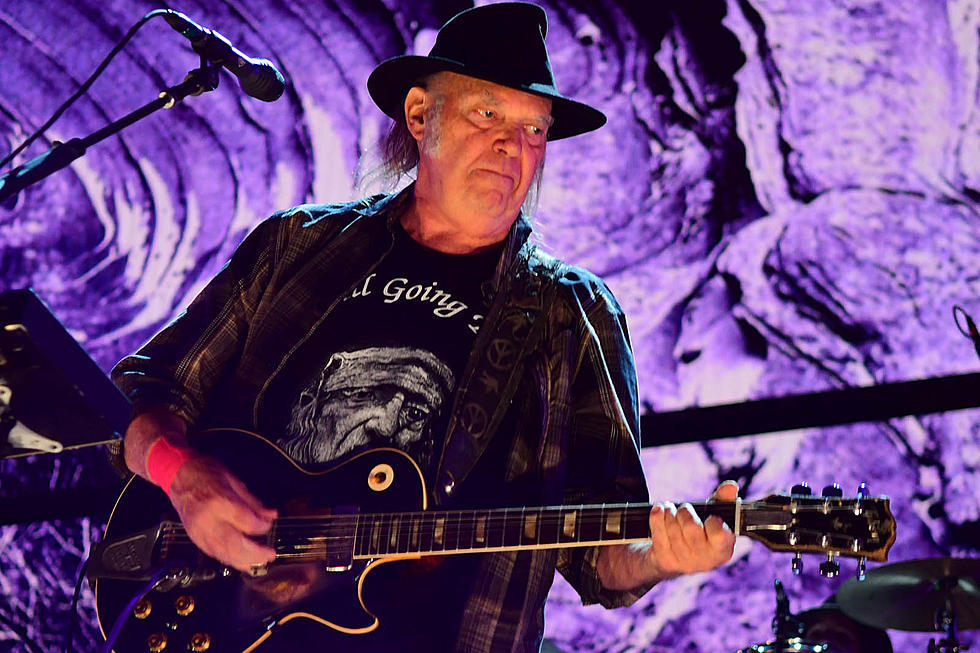 Neil Young Plays First Show Since 2019 to Send Green Message
Matt Kincaid, Getty Images
Neil Young performed live in public yesterday (Feb. 25) for the first time since 2019 during an ecology rally in British Columbia, Canada.
He performed "Comes a Time" and "Heart of Gold" outside the province's legislature building in Victoria, as part of the United We Stand for Old Growth! Declaration event, which aims to force politicians to act on previously agreed proposals that, protestors say, haven't been enforced.
"It's a precious, sacred thing, these old trees," Young can be seen telling the crowd in the video clip below. "Because they show us the power of nature when we are being threatened. They show us the past and they show us our future. And that's something that I hope our Canadian government and business section will recognize – that this has to do with Canada, it has to do with the ages, if we're lucky enough to have ages. And these trees have lasted so long they deserve Canada's respect."
Leading organization Stand.earth claimed in a statement that, despite agreements put in place, ancient trees were being cut down on a daily basis, adding: "The government earned a record $1.8 billion in stumpage fees in 2021, but has not provided sufficient funding to First Nations to support immediate deferrals, long term solutions, and their transition to sustainable second growth forestry.
"Healthy forests are essential to maintaining safe, sustainable communities, critical water ecosystems, biodiversity, salmon habitat and so much more. With more extreme weather, wildfires and flooding, the failure to protect vital forest ecosystems is already life-threatening and has decimated some communities… [W]ell over 1100 people have been arrested, while peacefully defending old-growth forests… demonstrating the widespread frustration with the NDP government and its failure to keep its promises on this vital issue."
Young – who recently said he might have retired from touring as a result of ecological concerns – had also announced an appearance alongside Stephen Stills at a charity blues festival in Los Angeles in April.
2023 Rock Tour Preview
Reunions, farewells and long-awaited shows are on the horizon.