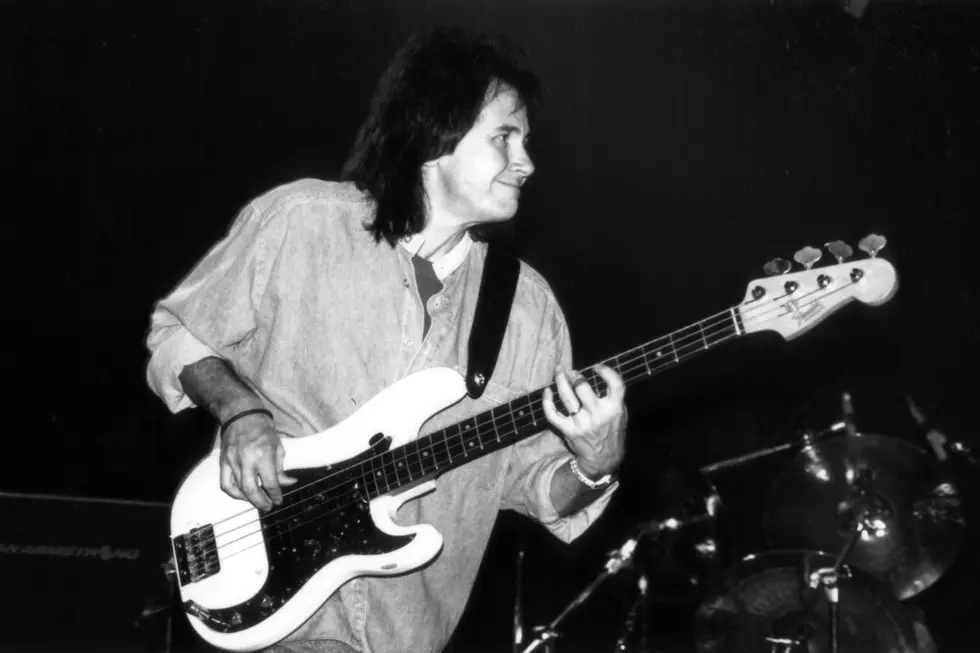 Former Ace Frehley, Peter Frampton Bassist John Regan Dead at 71
Jim Steinfeldt, Getty Images
Former Ace Frehley and Peter Frampton bassist John Regan died on Friday at the age of 71.
He passed at his Wappingers Falls home in Poughkeepsie, N.Y., with no cause of death given at the time. Since 2014, he had been co-hosting a local radio show after previously working as the Wappingers Falls parks commissioner.
"We are sad to announce the passing of one of our Chance family, John Regan," read a statement from the Chance Theater in Poughkeepsie. "John was an incredible musician, a rockstar, but most of all, he was one of the nicest, most humble humans you've ever known. John, you will be missed by all of us who had the honor of knowing you."
A member of Frehley's Comet from 1984-90, Regan recorded three albums with the former Kiss guitarist: 1987's Frehley's Comet, 1988's Second Sighting and 1989's Trouble Walkin'. He also toured with Frampton and appeared on many of the guitarist's albums in a partnership spanning several decades, beginning with 1980's Rise Up.
"There might only be a handful, if that, of people who come into your world and truly enrich your life," Frampton wrote in a tribute to Regan on Twitter. "I have lost one of my closest buddies. He certainly enriched my life because of the person and the great player he was. John Regan was the best of us. He went out of his way to help people when things weren't right. It didn't matter who you were, prince or pauper. I know there are many of you out there who knew him. He was a friend to all. Always musically inspiring and one of the funniest people on the planet. My thoughts are with his wife Cathy, his children, Christopher and Jeness, and his grandchildren. I love you, my brother. You will be missed by so many. Rest in peace."
Regan additionally played on Mick Jagger and David Bowie's 1985 single "Dancing in the Street" and the Rolling Stones' 1986 Dirty Work cut "Winning Ugly." Further credits include Bowie's 1993 LP Black Tie White Noise and David Lee Roth's 1994 effort Your Filthy Little Mouth. In 2014, Regan formed Four by Fate with former Frehley's Comet guitarist and vocalist Tod Howarth and ex-Skid Row drummer Rob Affuso. They released their debut album, Relentless, in 2016.
"John, of course, was a world-class talent and an incredible human being — and from a personal level, he was responsible for me joining him with Ace and Anton [Fig]," Howarth wrote in a tribute on Facebook. "He was also responsible for the championing of my song 'It's Over Now.' There's way too much to say and it's hard to type, stopping and starting constantly. I really haven't stopped crying most of today as the music world loses another. ... What's more important is the man, the music, love, talent and friendship that he shared for his 71 years."
Regan reflected on his bass-playing approach in a 2016 Songfacts interview: "It is always in the forefront of my mind to try and play my bass parts to best serve the song, singer and my fellow musicians. Peter [Frampton], in particular, is a pleasure to work with in that regard. For the better part of 31 years, from 1979 through 2010, it was an honor to compose and perform his music."
Watch John Regan Reunite with Peter Frampton in 2019
He described "Dancing in the Street" as a "high-water mark" of his career. "My most vivid memory of that day was that it happened to be one of those rare occasions that the part that made the final recording was a first take for me, but as I was laying down the bass track, I could see Mick dancing around the studio, just getting into the music as if he were onstage," he reflected. "Powerful moment in time for me, and it hit home how much Jagger was moved by the power of the song, and how sincere his love of music must be."
Regan also spoke fondly of his time in Frehley's band in a 2017 Poughkeepsie Journal interview, explaining that the pair met at a mutual friend's studio in the early '80s and started jamming. "He's a kook, in a good sense. In a world full of copies, he's a one-off," Regan said. "He's an original."
In Memoriam: 2023 Deaths
A look at those we've lost