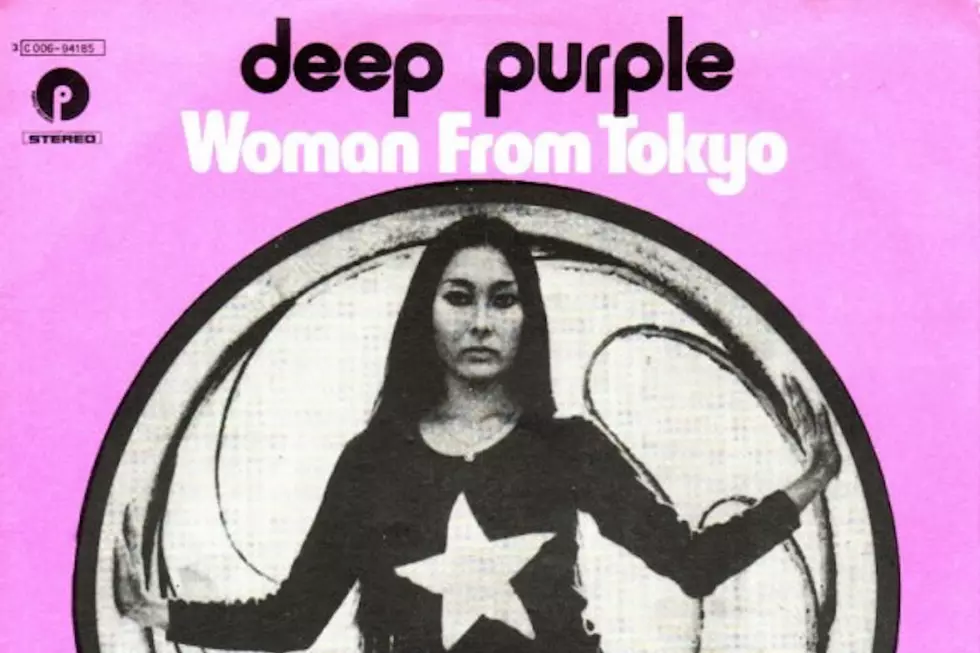 How Deep Purple Took on Hard Times With 'Woman From Tokyo'
Warner Bros.
One of Deep Purple's best songs came out of one of their worst times.
The band was in disarray while recording "Woman From Tokyo," which arrived in March 1973 as the lead single from Deep Purple's seventh studio album, Who Do We Think We Are. "We had burned out," keyboardist Jon Lord told this writer during the Mk II reunion tour in 1984. "We were working non-stop — recording, touring, recording, touring – no down time, no rest. It was just a treadmill, and it was wearing us down.
"We should have taken time off," Lord added, "but management told us we couldn't." Instead, they gathered to start work on Who Do We Think We Are in July 1972 in Italy just seven months after recording the landmark Machine Head – and less than four months after its release.
Their weariness would certainly affect the album as a whole, but "Woman From Tokyo" ranked — and still holds up — alongside "Smoke on the Water," "Highway Star," "Space Truckin'" and others on Deep Purple's A-list. It also gave the band a fifth song on the Billboard Hot 100, peaking at No. 60. "Smoke on the Water," goosed by the live Made in Japan album, later equalled the high mark of No. 4 achieved by "Hush."
Listen to Deep Purple Perform 'Woman From Tokyo'
Ironically, "Woman From Tokyo" was recorded the month before Deep Purple headed to Japan for the first time in August 1972. These shows provided a foundation for Made in Japan, making this single's lyrics — with references to "the rising sun" and "an Eastern dream" — anticipatory rather than observational.
Deep Purple was working at a villa with the Rolling Stones' mobile recording unit. During a TV interview many years later, Lord called "Woman From Tokyo" "one of the great Purple classics ... a terrifically well-made song" begun with "another classic [Ritchie] Blackmore riff to start it off."
Lord said he loved "the way it departs from what was probably Ritchie's original intention with the song. I think he saw it as more of a bluesy thing." He was especially proud of "that delightful middle passage, which works really well," as Deep Purple pulls the song back into an airy, almost prog ambience before charging back. There's also "a piano solo of which I'm not particularly proud," he added. "It's not the greatest piano solo I ever played in my life, but it's alright."
Most of Lord's most celebrated keyboard work with Deep Purple to that point, of course, was on organ rather than piano. In the end, radio listeners were none the wiser, since the single version edited out the middle passage for a more airplay-friendly runtime.
Watch Deep Purple Perform 'Woman From Tokyo' Live in 1996
The "very difficult circumstances" Lord described would yield only one more song — the outtake "Sweet Horse" — while Blackmore stayed largely separate from the rest of the band as tracks were being laid down. He wasn't particularly fond of "Woman From Tokyo" either, and the Mk II lineup would not play it live until the reunion in 1984. Ian Gillan has described the range-y melody as particularly difficult to sing.
While "Woman From Tokyo" has maintained a celebrated legacy, Who Do We Think We Are didn't fare so well. Finished during the fall of 1972 in Frankfurt, Germany, the LP reached No. 15 on the Billboard 200 and was certified gold but is dotted with uninspired material. Who Do We Think We Are also came out just five weeks after Made in Japan, which beat it on the chart to No. 6 and eclipsed the new entry with its ferocious performances of Deep Purple favorites.
The Mk II didn't last long after that, with Gillan leaving during the summer of 1973 after Deep Purple's second tour of Japan. Bassist Roger Glover was then fired in his wake.
Rock's 100 Most Underrated Albums
You know that LP that it seems like only you love? Let's talk about those.
Jon Lord and Ian Paice Were in One of Rock's Forgotten Supergroups