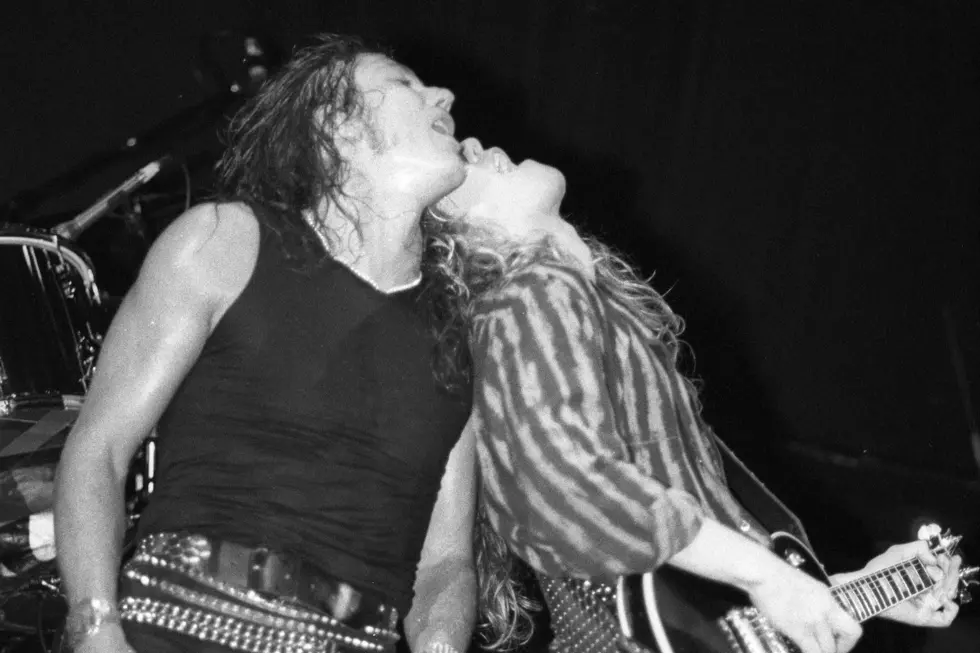 David Coverdale Says John Sykes Reunion 'Would Never Work'
Richard E. Aaron, Redferns
Whitesnake fans hoping for a reconciliation between David Coverdale and John Sykes shouldn't hold their breath, as the singer said he has no desire to rekindle a working relationship with his former guitarist.
Sykes joined Whitesnake for 1984's Slide It In and collaborated on the band's astronomically successful 1987 self-titled album, which spawned the hits "Here I Go Again," "Still of the Night" and "Is This Love." Before Whitesnake hit shelves, though, Coverdale fired Sykes, claiming he and producer Mike Stone tried to replace the singer while he was recovering from a severe sinus infection and surgery.
Coverdale reflected on the falling-out in a recent Metal Edge interview, where he praised Sykes' skill but said he wouldn't work with him again. "As you know, things went squirrely between us, which was unfortunate. But John was and is an incredible talent," he said. "Our musical chemistry was great, but it didn't work personally. The truth of the matter is no matter how incredible of an album that we made together, we were unable to connect as people."
He continued: "You can hear that there was creative magic in that relationship, but it stopped the moment we put the mics and instruments down. John was critical to that record and a superb live player. But there were many important aspects of things that were not there. It wasn't meant to be. With John, things just exploded. I think rock bottom would have been when he tried to fire me from my own band. As you can imagine, that didn't go over very well."
Sykes has disputed this version of events over the years, telling Rock Candy magazine (via BraveWords) in 2017 that Coverdale "said nothing to any of us about having decided to kick us out of the band" and claiming he found out through Geffen Records A&R man John Kalodner. "So I went down to the studio where David was still recording his vocals, prepared to confront him," Sykes added. "Honest to God, he ran away, got in his car and hid from me!"
Watch Whitesnake's 'Still of the Night' Video
Coverdale replaced Sykes with Vivian Campbell and Adrian Vandenberg for the Whitesnake supporting tour, and Steve Vai later replaced Campbell for 1989's Slip of the Tongue. Sykes, meanwhile, formed the band Blue Murder with bassist Tony Franklin and drummer Carmine Appice and released their self-titled debut in 1989. He and Coverdale remained on bad terms for years, though they finally reconnected while Coverdale was working on his 2000 solo album Into the Light.
"So, after something like 15 years of animosity, we spoke and got on well," Coverdale recalled. "Thoughts of working with him again crossed my mind, but the more we spoke, the more I realized that I had changed significantly, and John had been his own boss for so long, so it would never work. I thought, 'The chemistry is not going to work; it's going to be as it was all over again; I can't have that.'"
Coverdale added that despite Sykes' prodigious talent, he doesn't believe a reunion would benefit either of them at this point. "Truthfully, I simply don't want to do anything at this time in my life that will open the door to regret," he explained. "I know that's perhaps disappointing to fans, and I wish John every success, as I know he's a much-loved and admired player. And I hope everything's okay with him as I haven't heard from him for a while. But I guess what guides me now is something I learned from Jimmy Page, Jon Lord, and the great Ritchie Blackmore, and that's: what's the point of working with someone if I don't think I can teach them anything or get something in return?"
The frontman also exalted Vai, who joined Whitesnake onstage last summer at France's Hellfest before they canceled their remaining farewell tour dates. "Both my band and I had to pick our jaws up off the floor while trying to mouth, 'We're not worthy,' because the man is just a deity," Coverdale said. "But Steve and I are still very good friends; we text each other naughty stuff regularly."
Top 30 Glam Metal Albums
There's nothing guilty about these pleasures.