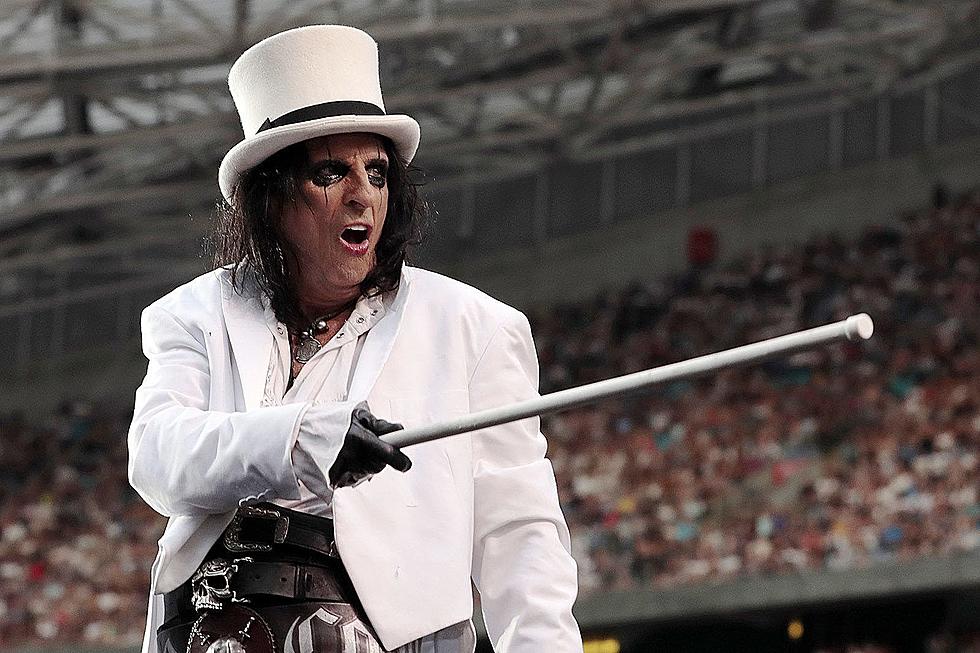 Hear Alice Cooper's Raucous New Single 'Welcome to the Show'
Cole Bennetts, Getty Images
Alice Cooper has revealed "Welcome to the Show," the third single off his new album Road, which arrives on Aug. 25.
Following the pattern established by previous singles "I'm Alice" and "White Line Frankenstein," "Welcome to the Show" is a raucous, no-frills rocker with a punky tempo and plenty of crunchy riffs. "All right, band, put your hands in!" Cooper implores before the fiery guitar solo. "Top hat! Cane! House lights! Intro tape! It's time!"  You can listen to the song below.
With a concert schedule that rarely lets up, Cooper wanted to bring the sounds of the stage to the studio, recording the songs on Road with his current live band. "I wanted to show off the touring band, so we wrote songs, went in the studio, and I said, 'Here's the deal on this album: No overdubs,'" he told UCR. "I said, 'Everything has to be done in the studio live because the whole idea of this album is showing off how good this band is live.' So when you hear this album, it sounds like a studio album, but it's actually them playing live in the studio."
The veteran artist once again worked with longtime producer Bob Ezrin on Road, but he also made sure his bandmates — guitarists Ryan Roxie, Nita Strauss and Tommy Henriksen, bassist Chuck Garric and drummer Glen Sobel — were a major part of the writing process. "In the past, the show got reviewed before the music did," Cooper said in an advance statement about the record. "We had hit No. 1 albums, but it was always about what we did onstage. For Road, I wanted the band to be involved in the foundation of all the songs."
The shock rocker is currently on a brief run opening for Motley Crue and Def Leppard. His Freaks on Parade co-headlining trek with Rob Zombie begins on Aug. 24.
Alice Cooper Albums Ranked
You can't kill Alice Cooper.