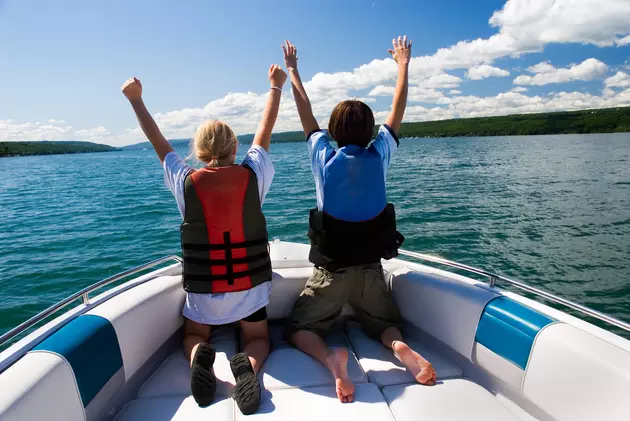 Water Safety Reminders For Kids Boating In Minnesota
slattery613
This weekend we rented a pontoon for the kiddos while camping.
Okay, it technically was for the adults too, but we got one with a big enough motor to pull the kids on tubes.
Most of the kiddos we had with us knew how to and are pretty good swimmers.  While that's good, we had to throw out some reminders this year multiple times.  Here's the top few that we ran into issues with kids not wanting to do or trying to get away with not doing while boating.
Wear proper fitting life jackets
A couple of kids during the weekend had outgrown their previous year jackets and that can be an issue when one doesn't fit right.  Too small and enough snaps might not click resulting in the jacket being ripped off in an emergency.  Too big, and it also might not stay on like it's supposed to.  In addition to proper fitting, we had three kids take off in kayaks without life vests.  Ages 7, 11, and 15 took three separate kayaks and just started paddling away.  The same ones that know on the pontoon tubes with us, it's expected to wear them.
Stay hydrated while boating
More than one kiddo and at least one adult got a case of dehydration going on while boating.  It's a camping weekend so everyone usually eats horribly, the kids have too many sodas or sugary juices, and adults tend to consume alcohol.  The case worth of half or quarter drank bottles of water left all over the cabin property and pontoon deck proves none of us were drinking enough water.  Besides making you feel icky, it's easy to overheat and get partied out if you aren't hydrating.
Make kids reapply sunscreen while boating and swimming
More than one kid this weekend got all scorched up from the sun.  It wasn't because they didn't put any sunscreen on, it's because they didn't reapply it throughout the day.  Part of that fault was at least some on the adults, for not reminding them.  They were having so much fun, and we were all in relax on the boat mode and forgot too.
Look out for each other
The kids in our group are really good about this, but we did have one that disappeared, and no one knew where they were for a good thirty seconds.  That's a long time when you think a kid might have gone under.  All was good, and he was laying down behind the front rail of the pontoon while we were anchored.  He was incredibly exhausted and almost asleep from the tubing and didn't respond to us or didn't hear us asking where he was.
There is of course a lot more to boating safety for kids, but these points stand out from our cabin/camping weekend.  What would you add to this list?
Things People Hate About Summer