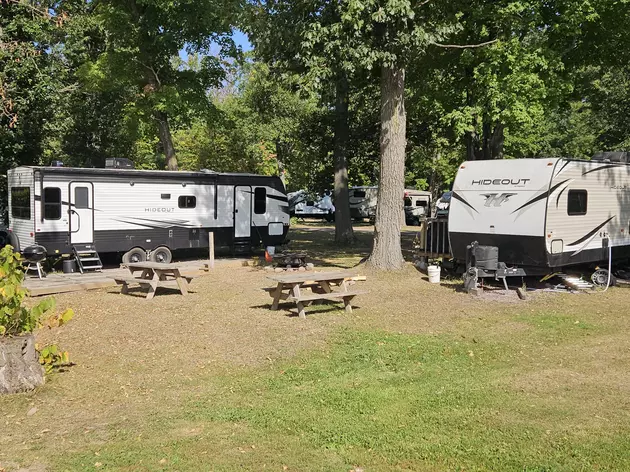 This Finlayson, Minnesota Campground Is Worth A Stay
Banning RV Park and Campground- Photo Credit: Joe Danger
Because my wife wanted one, we purchased a camper this spring and okay, maybe I wanted one too.
My issue with them is, you need to use it, especially if you get a newer one and have a payment on it.  For us, it made sense to get a toy hauler model so we can load up motorcycles or the four-wheeler, making it an even more versatile "toy".
We've been pretty good about planning camping weekends thanks to my wife who just plans a trip and we do it, so the camper is getting used.  For Labor Day weekend, we booked a spot at Banning RV Park and Campground in Finlayson, MN.
Her family has a seasonal spot there and we were able to be only two away from them, which worked out nice for sharing meals and firewood.  For my first time there, I was impressed.
I had no idea the size of the place, and it's quite sprawling.  What I dig is that the spots aren't all right on top of each other.  There is plenty of space, so you don't feel crammed in.  I was a little concerned with the road noise as the campground is right off the highway but had zero issues with it where we were placed on-site.
Banning Campground has plenty to do for the whole family.  There is a Game Shack with items like bag toss and other various activities you can use.  If you have younger kids, there are multiple playground options, and if you have dogs, they have a pretty nice dog park area too.
They of course have a couple of bathhouse/shower options that were decently clean and had good hot water.  Even though we had full hookups at our site, I still prefer a decent full-sized shower when it's available while camping, so that was a nice feature to me.
We purchased a big ole pile of firewood for about 45 bucks which I think was fair for what we got, and they delivered it right to our site.  There is also a nice store with some of the essentials you might have forgotten too.
Overall, Banning RV Park and Campground is a place I would for sure visit again and is worth adding to your list of stops if you're looking for a place to post up for a few days or even a whole season.
10 Things To Remember To Bring Camping