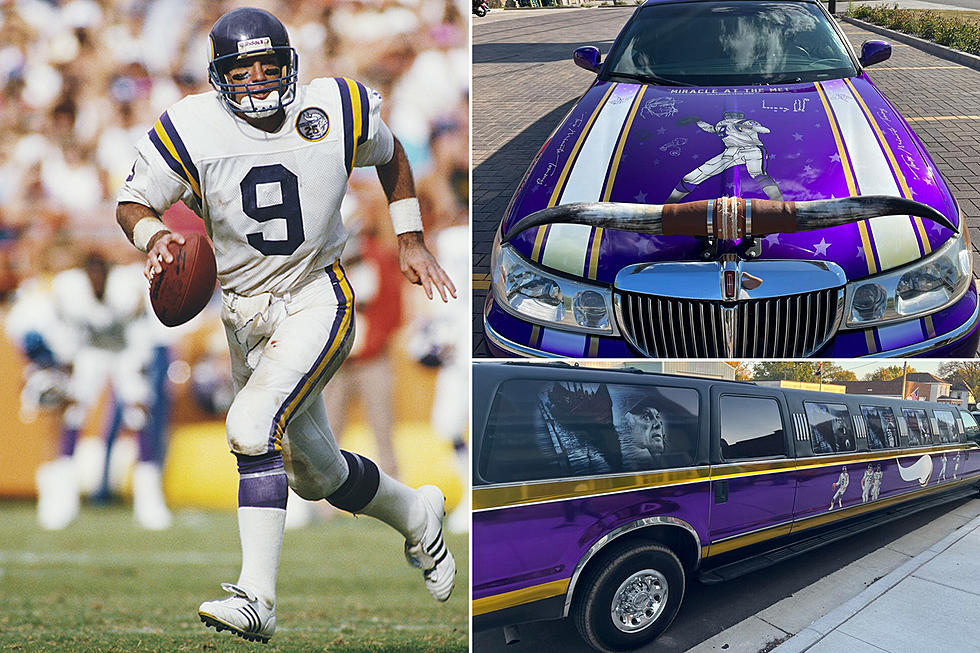 Former Vikings Quarterback Tommy Kramer Is Offering 'Ultimate Gameday Fan Experiences' This Season
Mike Powell/Allsport/Getty Images / Tommy Kramer
Former Minnesota Vikings quarterback Tommy Kramer just might be one of the most accessible former Vikings stars, making regular appearances around Minnesota and engaging with fans on location as well as via social media.
Kramer has been known to do karaoke nights, for example, including one in the Northland a couple of years ago.
"Two Minute Tommy" has also been known to get fans going on social media. Take for example a post from May of 2022, when he showed off a Packers urinal on Twitter. Kramer shared a brief video, showing off a yellow urinal with a Packers logo inside. The visual stoked the border feud, with fans on both sides of the border offering their thoughts on the bathroom fixture.
Well, it turns out Tommy is now giving fans an opportunity to enjoy what he is calling the 'ultimate Vikings gameday experience', which includes a ride in one of his relatively new Vikings limousines and a whole bunch more - including a party with the former quarterback.
Tommy Kramer recently rolled out a pair of Vikings-themed limousines
Kramer is a co-owner of a pair of Vikings-themed limos, which he refers to as TK9-One and TK9-Two. Of course, TK stands for Tommy Kramer and the number 9 is the number he wore as a player.
This all started with an 8-passenger limo that's painted in metallic purple and sports an artistic rendering of Kramer on the hood, along with a longhorn decoration as a hood ornament. He first shared news of this limo in November of 2021 on social media, rolling it out for rental by fans shortly after. This vehicle, known now as TK9-One was joined by another limo in late 2022.
This second limo, TK9-Two, is a Ford Excursion limo that holds up to 15 people. Painted in metallic purple and gold, this late 2022 addition to the fleet features a photo of Randy Moss on the hood, Brett Favre and Adrian Peterson on the rear, and other players and team imagery on the sides.
Tommy has promoted these two vehicles as a cool way to travel for special occasions, naming examples like Vikings games, weddings, bachelor & bachelorette parties, prom, birthdays, and other functions.
Fans can just rent the limo by itself for partial or full-day excursions, starting at $500 for the smaller TK9-One and $700 for the larger TK9-Two. Tommy offers an added bonus, providing the chance to book Kramer himself to join you for your special event. Starting at $1,000, Kramer will join you for your celebration, and each passenger on your limo ride will also get a signed authentic jersey.
If all of that wasn't enough, Kramer announced plans for a pretty wild new fan experience that will be available for the season ahead.
Kramer introduced a new "once in a lifetime" fan experience coming this season
Being billed as "once in a lifetime" home gameday limo experiences, one of Kramer's limos will come and pick up fans anywhere within 400 miles of Minneapolis (including North Dakota, South Dakota, Iowa, Minnesota, and Wisconsin) to bring them to the Twin Cities for this experience.
The limo will bring fans to the Twin Cities the day before gameday, give your whole group an exclusive party at Kramer's house the night before the game, then bring you to US Bank Stadium for the game the next day. The experience also includes hotel lodging for your whole group and a tailgate party before the game, then brings you home after the game.
While tickets to the game itself are not included, this experience includes pretty much everything else you could want for a pretty epic Vikings weekend getaway.
While the sticker price ($4,000 for the 8-passenger limo and $6,000 for the 15-passenger limo) isn't small, if you divide that among your whole group, that comes out to a couple hundred dollars per person for the weekend. With transportation, lodging, and a couple of parties included, the $400-$500 you might pay per person sounds fairly reasonable. You just need to remember to get your game tickets, too!
Five Best Minnesota Vikings Quarterbacks
Top 5 Worst Minnesota Vikings Quarterbacks