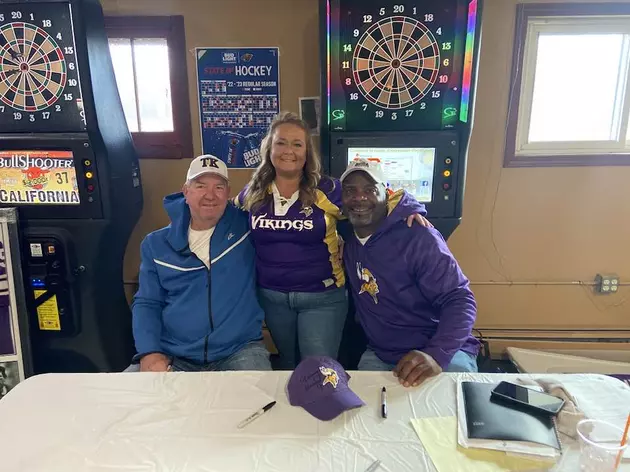 Several Vikings Legends Coming To Duluth For Vikings Viewing Party Sunday
Billy's Bar
Yesterday, Kirk Cousins just passed up Tommy Kramer for the amount of touchdown passes thrown as a Minnesota Vikings. Tommy Kramer held the number two spot on the list for years and is still one of the most successful Minnesota Vikings players in history. He and a group of former Vikings are coming to Duluth.
Kramer played 128 games for the Vikings between 1977-1989, throwing 159 touchdowns. His stats show passing yards just shy of 25,000.
Also coming with the group is former running back Ted Brown. He was drafted in the first round in 1979 and played with the Vikings from 1979-1986.
Stu Voight, former Vikings tight end will also be along to meet people and sign autographs. Ed McDaniel, a former Vikings' linebacker from 1990-2001 is coming too!
The former players will be at Billy's Bar on Sunday, October 1 from 11-4. They'll give away prizes, including signed jerseys, hats, and other swag.
The Vikings play the Carolina Panthers at noon, still looking for their first win of the season after falling to 0-3 after losing to the Chargers on September 24.
Billy's will have a large screen outdoors for the game, along with TVs inside the bar. They'll have a full menu, but will also offer different concessions outside during the game.
I spoke with the owner of Billy's, Brian, and he said there's a chance that even more former Vikings players will be coming, but so far these are the confirmed guests.
Billy's is located at 5063 Jean Duluth Road.
Five Best Minnesota Vikings Quarterbacks
Top 5 Worst Minnesota Vikings Quarterbacks