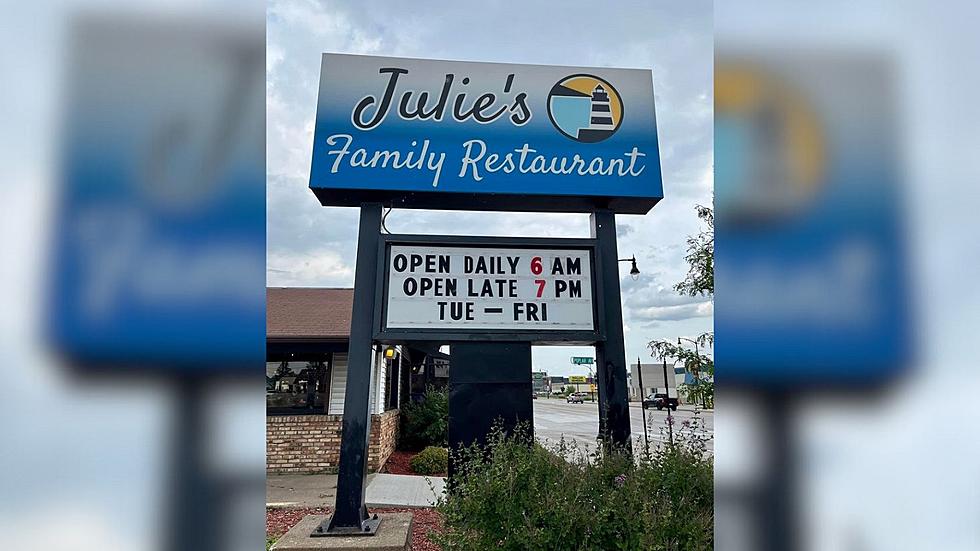 Julie's Family Restaurant In Superior Excitedly Announces Extended Hours
Julie's Family Restaurant Facebook
Earlier this summer, Julie's Family Restaurant, located at 403 Belknap Street in Superior, announced new business hours that disappointed both their customers and the team at Julie's.
The new hours would find them open 7 days a week from 6:00 a.m. to 3:00 p.m., meaning they would no longer be serving dinner. The reason behind the change was due to a lack of staff, which is an obstacle so many businesses unfortunately have to face.
Shortly after making the announcement, they shared a heartfelt post on their Facebook page explaining that finding staff to work nights at that time had become impossible. They had recently lost 5 people and another walked out without notice the day of the post.
That means their remaining staff had to work longer days, including their cooks who were working 12-hour days in the hot kitchen. There was a legitimate fear of their remaining staff burning out, so the change in hours was necessary.
However, that still didn't make it an easy decision for a place like Julie's Family Restaurant which appreciates its loyal customers, as the post explained:
Regarding the change in our hours to closing at 3 p.m. every day, I just wanted to say how truly heartbroken I am to have had to come to the decision to close nights. We have done everything we can to avoid such a drastic change. For nearly 26 years, we have prided ourselves on being able to provide good affordable dinners to our community, especially to families and our elderly neighbors. We have many loyal customers who come in every single day to get out and enjoy meals with friends. They become part of our families. I know there aren't many mom-and-pop family-style restaurants left in our area that are open for dinner.
Thankfully, the change in hours didn't last too long as Julie's Family Restaurant made a big announcement this week on Facebook that once again, dinner is served.
While they will still open daily at 6:00 a.m., they will now be open until 7:00 p.m. Tuesday through Friday, which will provide a dinner menu for their guests.
They also announced nightly specials:
Tuesday: Meatballs
Wednesday: Spaghetti
Thursday: Liver & Onions
Friday: All You Can Eat Fish Fry
It appears they were able to grow their staff, which allowed for dinner to return. They'd like everyone who stops in to welcome their newest employees, Emily, Becky, TY, Jeremy, Dianna, and Frank.
LOOK: 20 American foods that raise eyebrows outside of the US
Stac



ker
compiled a list of 20 unusual and uniquely American foods that might raise eyebrows outside the U.S.
50 Most Popular Chain Restaurants in America
YouGov investigated the most popular dining brands in the country, and Stacker compiled the list to give readers context on the findings. Read on to look through America's vast and divergent variety of restaurants—maybe you'll even find a favorite or two.