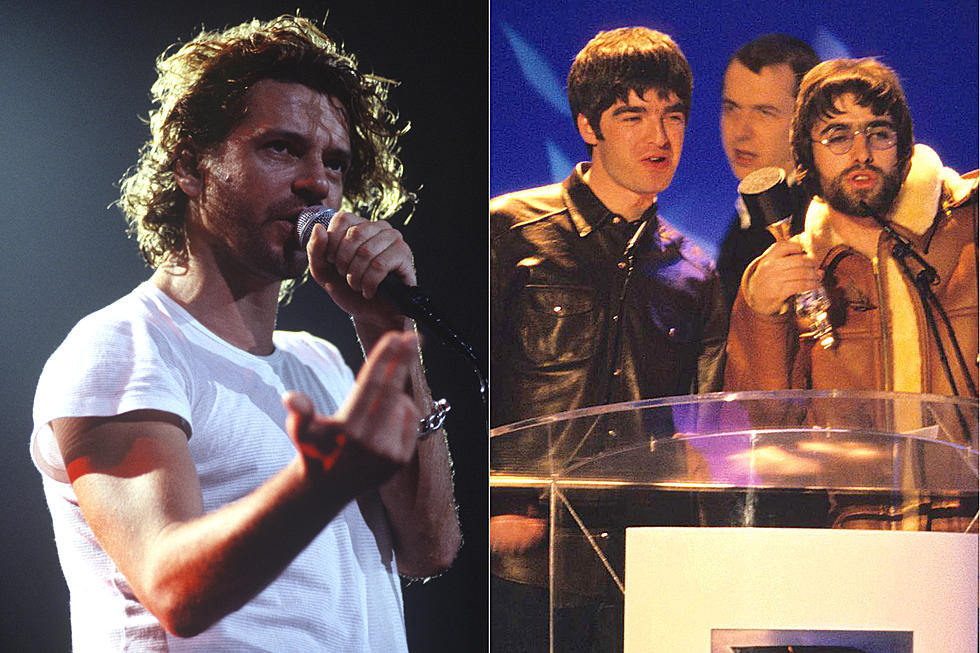 How INXS Retaliated Against Oasis With 'Elegantly Wasted'
Tim Mosenfelder / Fred Duval, Getty Images
INXS' 1997 single "Elegantly Wasted" was more than just another hit in the band's catalog. It was also a shot at Oasis.
The Australian band had enjoyed a successful career in the '80s and early '90s, with albums The Swing (1984), Listen Like Thieves (1985), Kick (1987), X (1990) and Welcome to Wherever You Are (1992) reaching platinum sales or better in the U.S. Still, that momentum began to wane with 1993's Full Moon, Dirty Hearts, which peaked at a disappointing No. 53 on the Billboard chart.
While mixed reviews were certainly part of the reason behind the failure of Full Moon, Dirty Hearts, a larger impact came from changing tastes in popular music. Grunge had become the taste du jour, with rock's alternative explosion just beginning. INXS' new wave sound suddenly seemed more dated than ever.
The band opted to take off a few years, recharging their musical muscles before returning with 1997's Elegantly Wasted.
"We really wanted to get off the old carousel for a while," singer Michael Hutchence explained at the time. "As a band, we have recorded an album every 12 to 18 months over the last five or six years. This helped to create a situation resulting in a lot of personal and business friction within the band, as well as the record label. … So, it just seemed like the logical time to take a break."
The band was still in the early stages of demoing Elegantly Wasted when Hutchence was invited to present British Video of the Year at the Brit Awards. The winner was Oasis, taking home the hardware for "Wonderwall." While accepting, Oasis guitarist Noel Gallagher took a shot at Hutchence: "Has-beens shouldn't present fuckin' awards to gonna-bes."
Watch Oasis Insult Michael Hutchence at the 1996 Brit Awards
There had been some history between Hutchence and Oasis. The INXS singer was rumored to have nearly come to blows with Liam Gallaher backstage at the 1995 MTV Europe Awards in an argument reportedly about actress Patsy Kensit (whom Liam would later marry). In the press, both men had made snide comments, but generally dodged questions about the incident.
"It wasn't scripted or anything like that," Noel later said of his has-been remark at the Brits. "We probably wouldn't have done anything if Michael Hutchence hadn't come out and said his little bit: 'I heard Liam wants to fight me.' We were like, 'Don't fucking try and pick a fight with us, man, because we're the best at giving verbal abuse,' and off we went."
Months after the Brits, Hutchence was in Dublin, working on some Elegantly Wasted songs. The INXS singer joined U2's Bono at a local pub for drinks when Liam Gallagher happened to waltz in. Initially, the three rockers chatted over beers, but Gallagher progressively became more belligerent. "Hey, man, why don't you shut up and sit down. You're being a fucking asshole," Hutchence told the Oasis singer, according to the book INXS: Story to Story. "We're trying to have a good time. What the fuck are you doing?"
Bono eventually played peacemaker (as he does), but Hutchence continued to stew. On his way home, the singer stopped by the studio where he and bandmate Andrew Farriss had been working. There, the frontman laid down some new vocals to layer underneath the tracks he'd already recorded.
Watch INXS' 'Elegantly Wasted' Video
Flash forward to March 10, 1997. The title track to Elegantly Wasted was released as the album's first single. Officially, the song's chorus was "Ah, Elegantly wasted / Ah, Elegantly wasted." Still, discerning ears picked up on something else.
"I've been listening to this chorus over and over," a local Chicago radio DJ explained while interviewing Hutchence and Farriss. "I've got to ask you, are you saying 'I'm better than Oasis'?"
The question reportedly made Farriss turn red, while Hutchence simply smirked. Both denied the song's subliminal message.
"Elegantly Wasted" was generally well-received, reaching No. 2 on the Billboard Alternative Songs chart. Still, the album failed to reach the same heights INXS had attained earlier in their career. The LP would prove to be their last with Hutchence. The singer died in November 1997.
Top 100 '90s Rock Albums
Any discussion of the Top 100 '90s Rock Albums will have to include some grunge, and this one is no different.