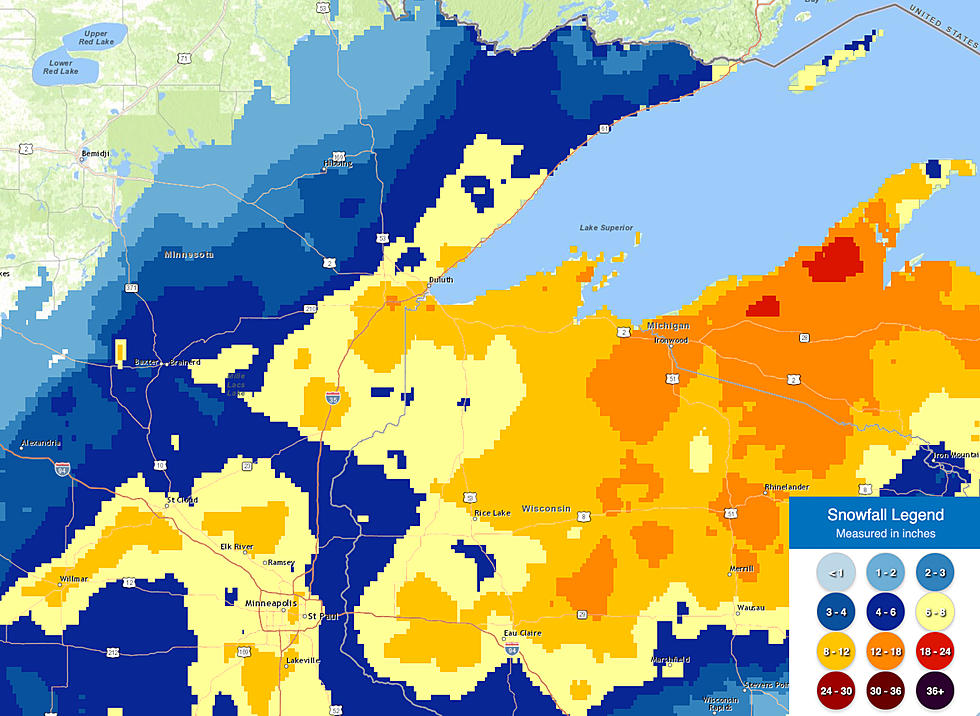 How Much Snow Did We Get From Our First Storm Of The 2019-2020 Winter Season?
Duluth NWS
The Northland got an early start on the winter season this year; with record cold temperatures starting the month, and a snowstorm bringing heavy snow the day before Thanksgiving. Predictions from forecasters suggested the first of two storms to end the month of November would bring 6-10 inches of snow to most places, and those prognostications proved to be generally accurate. Tap here to see the full-size estimates map from above.
20 inches - Gile, WI
15.5 inches - 4.1 miles ENE of Cornucopia
13 inches - Herbster, WI
12 inches - Poplar, WI
10.4 inches - 7 miles ESE of Superior. WI
10.3 inches - Mahtowa, MN
9.5 inches - Phillips, WI
9.5 inches - Holyoke, MN
9 inches - Brule, WI
8.5 inches - 2 mikes NNW of Gary New Duluth
8.5 inches - Grand View, WI
7.5 inches - Cloquet
7.1 inches - Silver Bay, MN
7.1 inches - Ashland, WI
7 inches - Duluth NWS Office
6.5 inches - Moose Lake, MN
6 inches - Rice Lake, MN
There is another storm on the way for the weekend, with some forecasts pointing to 12 or more inches of additional snow on top of what we saw before Thanksgiving.
Enter your number to get our mobile branded app