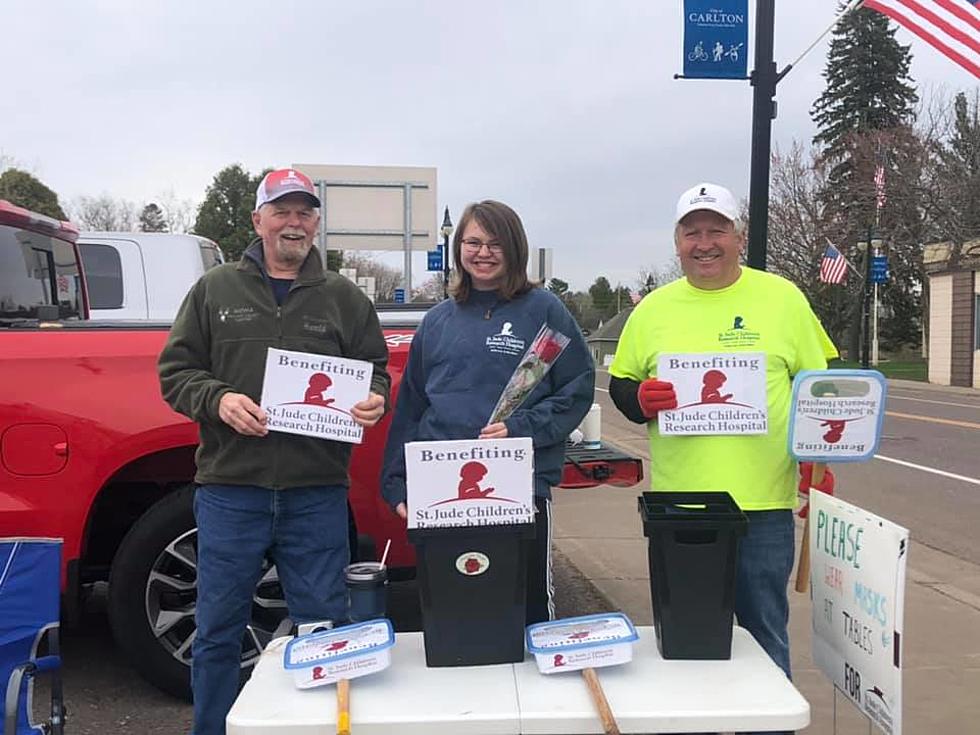 Harold's Drive Up Fundraiser Raises Over $9,600 For St. Jude
Tara Olson Facebook
Once again the community of Carlton and surrounding areas have shown their generosity with a fantastic fundraiser event. Normally in May, Harold Ankrum, his family, friends, and volunteers from all over put together the Harold's Flippin' Flapjack Fiasco. It's an annual pancake feed where the community comes together at the Four Seasons Sport Complex. Last year of course it couldn't happen because of the COVID-19 restrictions, and this year they decided not to hold it again to be safe.
So like last year, they did a drive up fundraiser again at the corner of Highway 45 and 210 in downtown Carlton this last Sunday, May 2. Volunteers were out from 8am to 1pm with long handled buckets where people could safely drop money in.
People sure showed up again this year. After the money was finally counted it added up to over $9600! That's a HUGE number for just a few hours of drive up donations. Not that I'm a math wizard, but that's almost $2000 an hour of donations!
Of course, all of that money goes to the kids fighting cancer at St. Jude Children's Research Hospital. Next we look forward to Harold's Golf Fiasco this late summer. That's the biggest fundraiser the group puts on at Pine Hill Golf Course. In 2020, despite the pandemic they raised a combined total of $35,200 for St. Jude. With a great start to the year, I wouldn't be surprised if Harold and the gang beat that total this year.
Our biggest highlight every year of the St. Jude Radiothon is when we can share the total from these guys with a check presentation from Harold and his fiasco crew.
10 Little-Known Facts About Minnesota