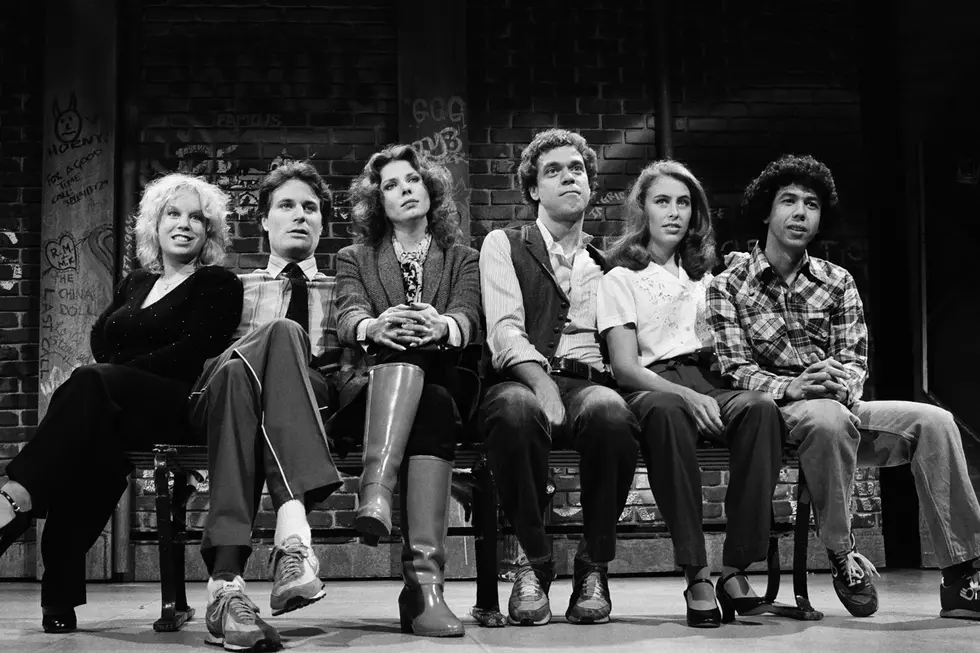 How Gilbert Gottfried Thrived During 'SNL"s Worst Season
NBC, Getty Images
Gilbert Gottfried's tenure on Saturday Night Live might be a brief and oft-forgotten footnote in the venerable sketch comedy show's history. But, as befits a singular performer like Gottfried, that footnote packs a wallop.
Gottfried, who died unexpectedly at age 67 on April 12 from complications related to muscular dystrophy, appeared on only 12 episodes of Saturday Night Live. That the run of one dozen shows is widely held up as the worst in SNL history certainly can't be laid at the 25-year-old Gottfried's feet. But it seems only fitting that the garrulously eccentric comedian should have been right in the thick of one of the most chaotic and infamous debacles in TV history if only so he could spend the rest of his long career regaling us with tales of the ordeal.
Hired on as part of the cast replacing the original Not Ready for Prime Time Players after the mass exodus of performers, writers and show creator Lorne Michaels in 1980, Gottfried seemed an odd fit —and he was. In Doug Hill and Jeff Weingrad's seminal book on the early days of Saturday Night Live, Saturday Night, the authors describe how, even then, people were concerned that Gottfried's inimitable style might not mesh with the utility player needs of a live sketch show.
As they put it, "[Gottfried] auditioned with a manic stand-up routine that had him bouncing around the set, ranting and raving like a madman." And while the resulting season (unnecessarily rechristened Saturday Night Live '80) could only have benefitted from some unexpected and unpredictable energy as it turned out, Gottfried was hardly ever called upon to be his unique self.
Under the leadership of former SNL associate producer and talent booker Jean Doumanian, Saturday Night Live '80 may have been doomed before it started — but the show fulfilled that destiny almost immediately. After five years of ever-mounting superstardom, what remained of the show's stellar cast (Jane Curtin, Gilda Radner, Bill Murray, Garrett Morris and Larraine Newman) had left to join already departed stars Dan Aykroyd, John Belushi and Chevy Chase in pursuit of Hollywood success. With barely a skeleton crew of the original show's creative team staying on, Doumanian quickly assembled a new, young cast to carry the show's still-roaring ratings and cultural torch. And while the cast Doumanian eventually settled on may have lacked the necessary star power (and talent) to jump right into their predecessors' shoes, it's hard to imagine America taking to these interlopers wholeheartedly. As Gottfried himself put it years later in the Michaels-produced documentary Saturday Night Live in the '80s: Lost and Found, "You needed a sacrificial lamb."
Watch Gilbert Gottfried on 'Saturday Night Live'
As one of those lambs wandering into an unaccustomed wilderness teeming with ravenous critics and ridiculously high expectations, Gottfried joined the likes of Charles Rocket (Doumanian's pick as her breakout star), Denny Dillon, Joe Piscopo, Gail Matthius, Anne Risley (an actress recommended by Doumanian's close friend Woody Allen) and a featured player named Eddie Murphy, whose marginal position under Doumanian was indicative of Saturday Night Live '80's shaky grasp on talent.
Gottfried joked over the decades about how a sketch from the season's eighth episode (hosted by Airplane! Star Robert Hayes) was symbolic of how he was viewed on the show. Gottfried played an unmoving, very dead corpse in a sketch about a funeral home hiring an inappropriately upbeat ballpark organist. And, indeed, by that point in his only SNL season, Gottfried, along with most of his castmates, were feeling the brunt of the world's disappointment and disapproval. Hill and Weingrad describe Gottfried as "all but catatonic" by that point in the season, something that's hard to imagine, considering Gottfried's renown as the ultimate showbiz trouper.
Watch Gilbert Gottfried on 'Saturday Night Live'
And while Gottfried did have more screen time on Saturday Night Live '80 than is popularly thought after decades of mockery (much of it coming from the comic himself), he was, indeed, underused. At least in that he was shoehorned into roles singularly unsuited to the rambunctiously strange and self-confident Gottfried people are most familiar with. He did have one regular recurring character in Leo Waxman, who, alongside his wife Pinky (Dillon) cluelessly interviewed celebrity hosts in an exaggerated Yiddish accent. Their talk show, "What's It All About?," isn't groundbreaking, even if it does predate later, similar SNL staples like Mike Myers' "Coffee Talk," and "The Chris Farley Show." But it's as close as Gottfried got to channeling his manic energy on SNL, and if this benighted season can be said to have any highlights (apart from the occasional glimpse of what Murphy could do), Gottfried and Dillon made an endearing team.
Otherwise, Gottfried's time on Saturday Night Live was spent being distressingly ordinary, Doumanian's decision to hire him not extending to a confidence that he could drive a sketch in his style. Gottfried, in the 2005 SNL documentary, summed up the wrongheadedness of Doumanian's hire with an impression of her watching a Marx Brothers movie and complaining, "Well, I like Margaret Dumont, but who are those weird gentlemen running around?"
Watch Gilbert Gottfried on 'Saturday Night Live'
It was not a match made in TV heaven, as Gottfried, in his increasingly infrequent appearances in that infamously dire season, saw himself tasked with playing stereotypical Italians, urban bullfighters and wide-eyed children (the latter asking his BDSM-experimenting parents what all the noise is about). Along the way, it's hard not to concur with Hill and Weingrad's assessment of Gottfried's mental state, with a few of his last appearances coming off as robotic and visibly downtrodden. Bill Murray, a friend of Doumanian's, attempted to stave off Saturday Night Live '80's looming demise by hosting the season's 12th episode. Reprising his camp counselor role from Meatballs, Murray tried to inspire the beleaguered cast, asking Gilbert, "Who are you?," before advising the glum-looking Gottfried, "Cheer it up for me, will you pal?"
But not even Murray (who half-jokingly apologized to his former castmates during the goodnights) could rescue Saturday Night Live '80. Doumanian was fired after that show, along with Charles Rocket, who'd sealed his fate an episode earlier when he accidentally said "fuck" on the air. Gottfried was gone, too, as NBC executive and onetime SNL co-creator Dick Ebersol cleaned house to try and keep Saturday Night Live on the air. Once more reminiscing about his brief and tumultuous role in Saturday Night Live's now 47-year history, Gottfried, with the good-natured benefit of decades of career ups and downs, conceded gleefully, "We did suck. … I can't blame it all on the press."
Rock's 60 Biggest 'Saturday Night Live' Performances