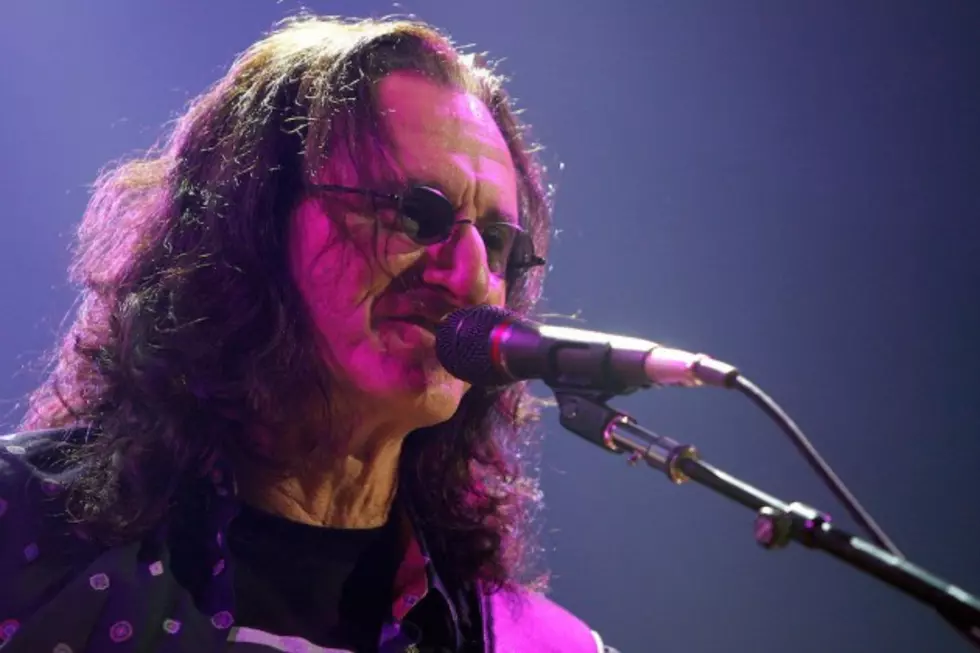 Geddy Lee on Rush's Upcoming 'Last Big Tour': 'We Have to Slow Down Dramatically'
Mike Lawrie, Getty Images
Geddy Lee pulled no punches tonight (Feb. 21) when asked if an upcoming series of dates represented a de facto farewell tour for Rush -- even if he was unwilling to call it that.
"It's very hard to answer that question for a lot of reasons," he said, during a special guest appearance on the season premiere of VH1's That Metal Show. "First of all, you know, the three guys in this band have very different opinions on this point in our lives. Everybody's in a very different space right now. We've done a lot of touring for the last 10 years, a lot of writing, a lot of working. (Drummer) Neil (Peart), for example, has a young child at home and he's said publicly, numerous times, that it's very hard for him to leave his daughter. She needs him. So, it's clear that we are at a point in our career that we have to slow down -- and slow down dramatically. So, I'm not a guy who's in love with the farewell tour idea, but it's clear that this is going to be the last big tour that we're going to do for a while, anyway. I can say that."
The career-spanning R40 Live tour is set to hit 34 North American cities this summer. Lee said the trio is taking the responsibility of representing their four decades of musicmaking very seriously. In fact, he admitted that they've got more songs in mind -- well before the editing process really begins -- than can possibly fit into the show, estimating that it would be about five hours long at this point.
Clearly, they've remained deeply engaged in Rush. "In terms of 'are we still a band?,' yeah, of course we're still a band," Lee confirmed. "Do we talk about writing? Yes, we talk about writing. Will we do gigs in the future? I don't see why not. But, when you are talking about a tour that's 35 shows, 40 shows, 50 shows at our age at this point in our lives, I don't know how many of those are still left in us."
This was Geddy Lee's second visit at That Metal Show, following an appearance on the program's inaugural season back in 2008. He was joined tonight by Dream Theater's John Petrucci, who was making his debut as a guest guitarist.
See the Yearbook Photos of Geddy Lee and Other Rock Stars