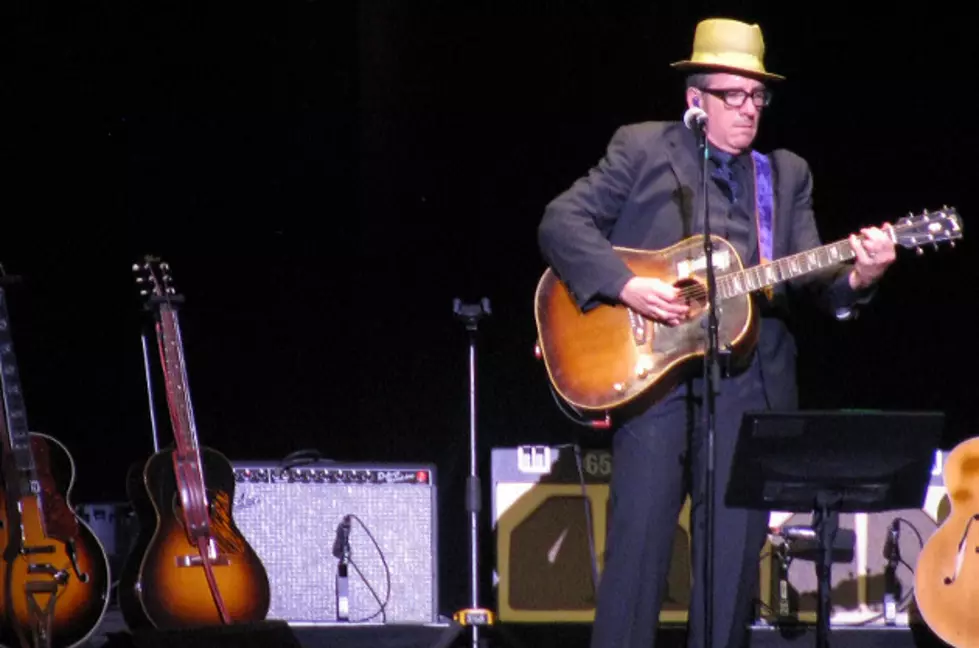 Elvis Costello's Solo Tour Delivers Many Happy Surprises
Annie Zaleski, Ultimate Classic Rock
You hear a lot of classic rock artists grumble about being strapped to their catalog of hits and how that negatively affects things when they go to put a setlist together. They've got to make room for new material, or they have so many of those darned classic hit songs. In the end, there's no room left for some of the really interesting deep cuts that they'd love to play, if they only had the time.
But then you've got Elvis Costello, a man and artist who has built a lengthy career upon doing the opposite of what people might expect or wish that he would do from tour-to-tour and album-to-album. While he's never exactly shunned his catalog of hits for a lengthy period like David Bowie, Costello most certainly has always marched to the beat of his own drum. To borrow a bit from the title of his 1977 debut, several decades into a successfully diverse career, he has proven quite well that his aim is very true -- and he's got a pretty good grasp on what his fan base wants.
But is it really what his fan base wants? Or what Elvis wants? It's probably a combination of the two that went into the thinking behind his recent run of tour dates, a short jaunt that hit less than 15 cities, including his first-ever shows at Carnegie Hall (which is pretty incredible -- you would think that he surely would have played there by now, right?).
He went out solo with nary a bit of cheating -- there wasn't even a guest triangle player waiting in the wings -- just Elvis onstage, surrounded by a few amps, a selection of acoustic and electric guitars and a keyboard. While the setlist itself seemed somewhat planned out in advance, Costello clearly had been having quite a bit of fun drawing each one up, delivering two and a half hours of album cuts and classic favorites concocted in such a way that each night is distinctly and delightfully different.
A mid-June show in Cleveland, Ohio, found Costello reaching back to 1980's 'Get Happy' album to open the set with 'King Horse,' an instant peek into the veteran singer/songwriter's unique lyrical brilliance that has carried him this far: "She can turn upon a sixpence in the mouth and trousers set / Hit the till, ring the bell, never spill a sip / And still she knows the kind of tip that she is gonna get / A lot of loose exchanges, precious little respect / When it's someone else's weekend/ That's the best you can expect."
Reading the above, you can imagine the average young Costello fan dropping the needle on that one for the first time, working to mentally unpack the story. And that's the great thing about the Costello catalog, there's been no shortage of tales to dissect with each album -- and his performance was a good chance to revisit some of his best moments.
The pacing of it suggests that the format of Costello's 'Spectacular Spinning Songbook' tour from a few years back left an impression. He had fun. If anything, this latest solo run gave Costello a chance to push even deeper in his catalog. With only one person onstage, the only one who has to know the song is Elvis himself.
Watch Elvis Costello Perform 'Alison' in Cleveland
Costello's next choice found him visiting his 1986 'King Of America' album for 'Jack of All Parades' and then 2002's 'When I Was Cruel' for '45.' It might have been a solo show, but it was far from a mellow evening. Blasts of Neil Young-worthy feedback peppered his rendition of 'Lipstick Vogue' and during a particularly spirited run through 'Radio, Radio,' he stopped briefly and quipped, "I almost went into 'Rosalita' there!"
He would involve the crowd at different points throughout the night, including a moment where he engaged the audience in a bit of call and response during 'Come The Meantimes,' a cut from his 2013 collaboration with the Roots.
During an encore of 'Watching The Detectives' (among a selection of songs spread out over three encore breaks that would add an hour of additional songs to his initial 90-minute set), there was more feedback and even an Elvis-branded megaphone among the toys that Costello employed as he progressively added layer upon layer of additional sounds to his performance, leading him to remark at the close of the song "that one gets weirder and weirder every night."
In a wistful nod to Father's Day, Costello took things in a tender direction with 'My Three Sons,' one of several quiet reminders throughout the night that his songwriting has often covered many different emotions. It is that quality which makes his songs continue to shine after so many years. And he continues to roll forward creatively, performing 'The Last Year of My Youth,' a brand new unreleased track he debuted during a performance earlier that month on David Letterman's show.
Still fresh after only a short time of being performed live, the new song is an enticing preview of whatever Costello might have up his sleeve for the next round. That's plenty to get happy about.