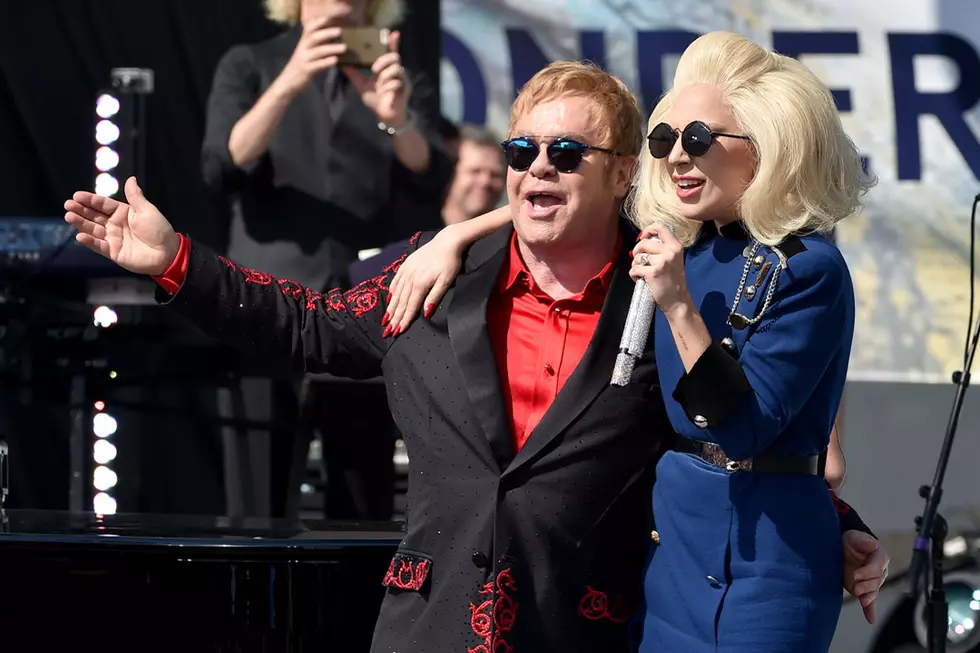 Elton John and Lady Gaga Perform Together at West Hollywood Pop-Up Show
Kevin Winter, Getty Images
Elton John showed his gratitude for all the support West Hollywood has given his AIDS Foundation by putting on a surprise concert for the city on Saturday (February 27).
The "Rocket Man" singer put on an hour-long show outside the old Tower Records building, which was streamed on on AOL.com.
"The City of West Hollywood has welcomed the Elton John AIDS Foundation and our annual Academy Awards Viewing Party with open arms for many years, providing us with the perfect environment to host a really fun and special evening," Elton John said in a statement (via Billboard). "We are profoundly grateful for their generous support, so I wanted to do something special just for them by giving our West Hollywood fans and supporters a surprise concert. Thank you, West Hollywood!"
Not only did he treat fans to a series of his hit songs, Elton also brought a special guest. Lady Gaga joined him toward the end of the show for a heartfelt rendition of "Don't Let the Sun Go Down on Me."
"This great man has inspired generations with his powerful music and warm heart there will never be another like him and there never was before. His uniqueness is compounded by his ability to love endlessly while also creating the biggest hits the world has ever known," she captioned a photo of the two performing on Instagram, which you can see below.
Oscars 2016: The 12 Biggest Snubs and Surprises