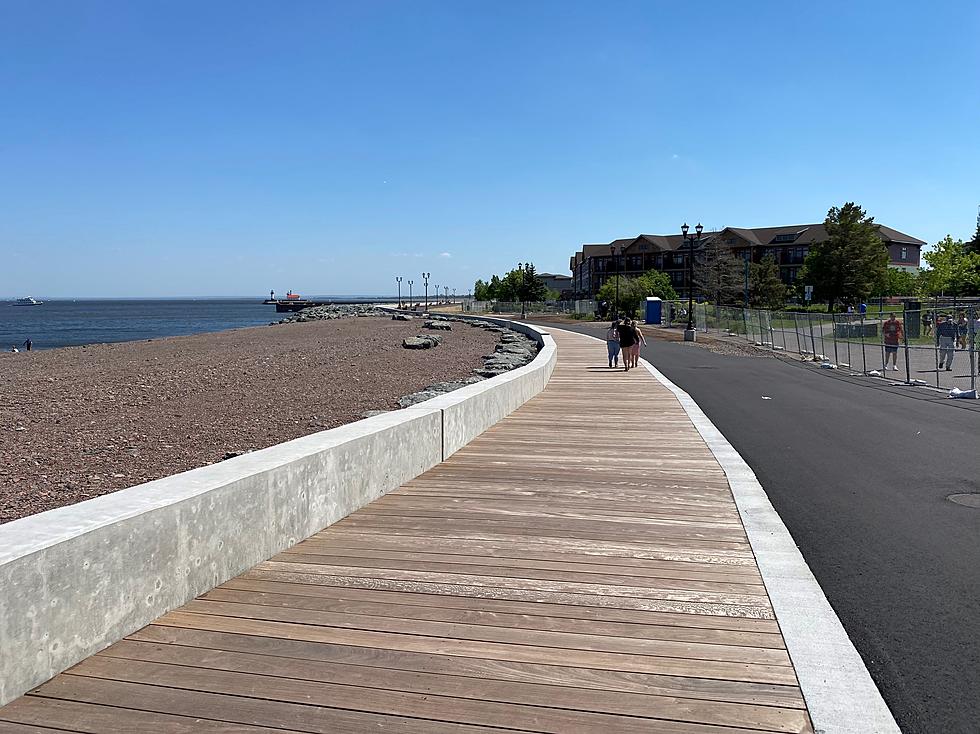 Duluth Lakewalk In Canal Park To Reopen This Week
TSM Duluth
After a couple years of work not only repairing, but also reinforcing the shoreline and the Duluth Lakewalk, the project is coming to a close. Duluth city officials announced over the weekend that they will be officially reopening the recreational path along Lake Superior ahead of the anticipated completion date.
Officials announced back in March that they were targeting having the Duluth Lakewalk open by Grandma's Marathon Weekend, which is the weekend of June 19. When that announcement was made, it was anticipated the path might be opened the week of the marathon, but Mayor Larson and other city officials shared that they plan to open the Lakewalk sometime this week.
The City of Duluth referred to the reconstructed Lakewalk as "Lakewalk 2.0" in a Facebook post on Saturday, which explained the announcement event as an opportunity to thank those involved in the project.
Mayor Larson was quoted in the post as saying "The Lakewalk is free to access. It doesn't require an admission fee. We can't wait to reopen so that millions can enjoy the Lakewalk. Duluth is open, and ready for you."
The post concluded by explaining that crews are putting the "finishing touches" on the area along Canal Park, and look forward to officially opening the path sometime this week. No specific date was announced, but it sounds like it will be fully opened for use by this coming weekend.
The reconstructed trail reinforces the shoreline against powerful waves with a combination of tons of large rock and a cement barricade and also features user improvements like an expansion of the boardwalk from a 6-foot width to 10 feet and a widening of the paved path from 7 feet to 12. This will offer more space for walkers, bicyclists, inline skaters and others to enjoy the path during busy summer seasons ahead.
As you probably recall, the shoreline along Lake Superior in Duluth was damaged by a series of strong early and late season winter storms in 2017 and 2018 that led to several areas of severe damage to the shoreline and Lakewalk.
The project to reinforce and repair the shoreline and trail was about $22 million, according to WDIO.
12 Iconic Landmarks In The Twin Ports
Pick Up Lines Only Twin Ports Residents Will Appreciate