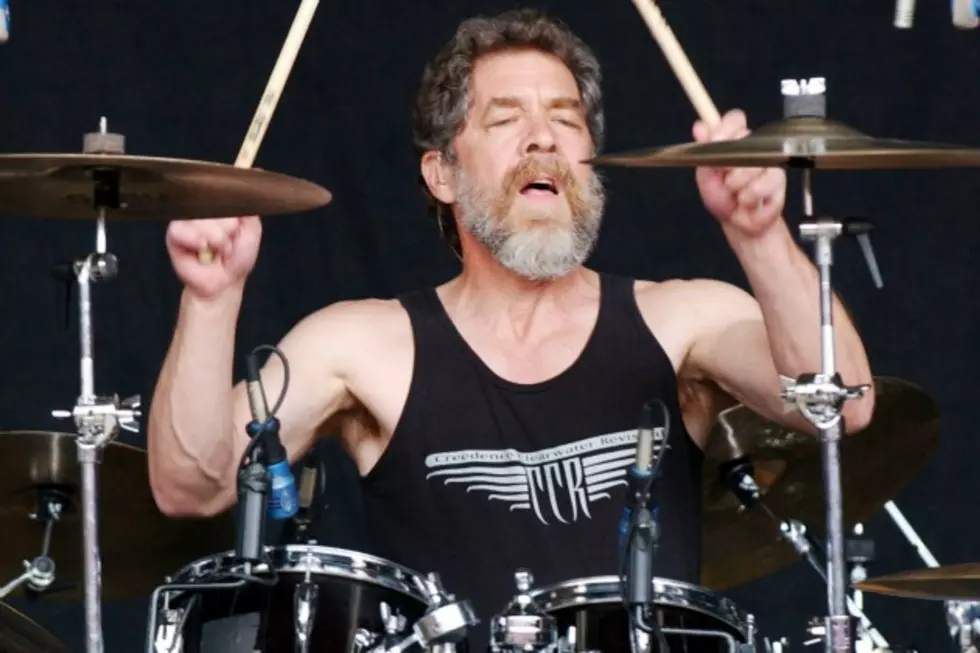 Doug Clifford on CCR's Beginning: 'We Were Terrible'
Tim Mosenfelder, Getty Images
We may never see John Fogerty reunite with his former Creedence Clearwater Revival bandmates Stu Cook and Doug 'Cosmo' Clifford. But for nearly 20 years, Cook and Clifford have been bringing CCR's classics to fans with Creedence Clearwater Revisited.
According to Clifford, it was John's brother Tom Fogerty who really whipped the band into shape during its early days. "Tom was the one that brought us along," he recalled. "We were terrible ... He was 18, and he was very patient with us and he stuck with us. We were an instrumental trio before he joined the band. We would play frat parties and we would get 20 bucks apiece, which was big money for kids. Nobody was singing. Tom said, 'Doesn't anybody sing?' John said, 'I can try.'"
But success, Clifford argues, changed the dynamic between the brothers almost immediately. "I think [John] thought that if Tom had a hit single, then that would somehow threaten him," he mused. "I never did get it. Stu and I always stuck up for Tom, and that put us in the doghouse with John. I read all of this stuff where John says that he had forgiven Tom. For what? He should be thanking the guy. That is something that really does get to me."
Tom quit the band in 1970, and Creedence Clearwater Revival disbanded in 1972 with an acrimonious split that still lingers with Clifford. In fact, he says the original lineup -- which was broken forever when Tom died in 1990 -- played together for the final time at the members' 20th high-school reunion in 1983.
"[John] came up to us and asked us if we wanted to play three songs," Clifford recalled. "He named the first two songs and said by the time we were ready, he would name the third song. We played for an hour and a half. You couldn't get us off the stage. He was loving it, you could tell. We called him afterwards and said, 'Do you want to go out to dinner?' He said, 'Go to dinner with you guys? No. I just did what was expected of me.' That's John. He was having fun, though. For that brief moment it was like the old days. We were back in high school."
Pointing out that "in four years, we had 20 hits; in 44 years as a solo artist, John has had two hit singles -- I rest my case," Clifford says he's taken a more philosophical approach to CCR's split over the years: "It is just not meant to be, and I'm not going waste a lot of energy thinking about why it is the way it is. It would just eat me alive. I've got Stu and the boys and we really have fun. We love each other as brothers, and we have a good time."