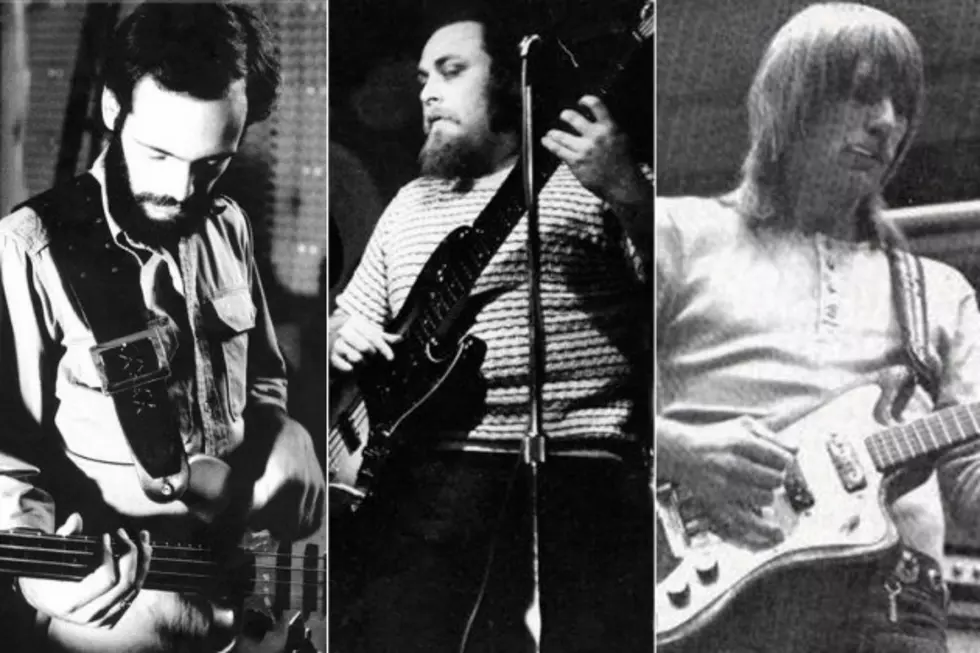 The Secret History of the Doors' Bass Players
YouTube / Larry Knechtel.com (Yes, we know Larry's playing a guitar)
The Doors did not have a bass player. It's one of those bits of music trivia that always seems to blow the minds of up-and-coming rock aficionados. It breaks the rules of a rock band. Guitar, vocals, drums, bass. All essential elements, right? To quote The Kids in the Hall: "The gypsies had no homes. The Doors had no bass. But don't let that scare you, my friend, let that liberate you!"
In terms of live performance, it's a fact: The Doors did not have a dedicated bass player. In concert, keyboardist Ray Manzarek held down the bottom end with his left hand (and right foot) on the Fender Rhodes. John Densmore played drums. Robby Krieger played guitar. Jim Morrison sang. That was it, and the guys have explained that the lack of a bass guitarist freed up sonic space and helped the group distinguish their sound from other late '60s bands.
Of course, the Doors hadn't always been bass-less. When they were still called Rick & the Ravens, the band was a six-member outfit that featured Manzarek's brothers (Rick and Jim), as well as bassist Patty Sullivan, who was featured on the group's demos that were recorded in September 1965. The six tracks (later released as part of the Doors' 1997 box set, with credit given to their former bassist's married name, Patty Hansen) included early versions of "End of the Night," "Moonlight Drive" and "Hello, I Love You." A month after the recordings were made, the band switched their name. Manzarek's brothers left, Krieger joined on guitar and Patty was shown the door when they decided that he could perform bass on the keys.
Listen to Early Recordings by the Doors
And that's the way the Doors remained ... until the band went into Sunset Sound Recorders to lay down the tracks for its self-titled debut. While recording, producer Paul Rothchild – who would helm the band's first five LPs – decided that Manzarek's keyboard bass wasn't quite cutting it in the studio.
So Rothchild brought in a member of Los Angeles' fabled Wrecking Crew, bassist and pianist Larry Knechtel, to strengthen the sound of six of the album's 11 songs. Knechtel's work went uncredited, but that's his sturdy playing on "Light My Fire," "Back Door Man" and other tracks. Knectel was probably used to staying in the shadows, getting little recognition for his contributions on record by the Beach Boys, the Mamas and the Papas and Elvis Presley, as well as smash hits such as the Byrds' "Mr. Tambourine Man" and Simon & Garfunkel's "Bridge Over Troubled Water." He eventually joined Bread and later worked for Rick Rubin on albums by Neil Diamond and the Dixie Chicks before dying of a heart attack in 2009.
According to Densmore, who clarified some points for Ultimate Classic Rock in a subsequent Facebook post, "Larry Knechtel wasn't credited because he duplicated Ray's left hand bass lines exactly. He didn't record with us on the tracks, he overdubbed later. This was a time before moog synthesizers, and Rothchild felt (correctly) that Ray's lines needed more sonic punch from a string plucked in addition to a keyboard."
Though Knechtel wouldn't play on any future Doors recordings, his role on The Doors, established a trend of "ghost bassists" on all of the band's albums to come. The next man tapped for the gig was Doug Lubahn, who many fans now consider "the fifth Door." He played bass in a band called Clear Light, which had been signed to the Doors' label, Elektra, by Doors producer Rothchild. In his book, My Days With the Doors, Lubahn explains that Rothchild asked him to take a break from jamming with Clear Light to record some bass parts for the Doors' second LP, Strange Days. He ended up playing on seven of the LP's 10 tracks.
But the Doors' association with Lubahn nearly went one step further. According to an interview he gave to Doors Collectors On-Line Magazine, Lubahn was asked to become a full-time member of the band. "One day Paul Rothchild and I were on our way to a Strange Days rehearsal," Lubahn said. "He asked me if I would consider joining the Doors. He was also producing my band Clear Light. So it kind of offended me. It was like, 'What? You're working with my band and you want me to quit my band and join this band?' And so I said no."
Listen to the Doors' 'Five to One'
Lubahn later found out that it had been a group decision (and not just Rothchild's), but explained that his priority was his role in Clear Light. Although he didn't join the Doors, the bassist continued to work in a session capacity for the band, playing on nearly every track on 1968's Waiting for the Sun and on one-third of 1969's The Soft Parade. Morrison and Manzarek directed how and what Lubahn should play, although he has said he got along well with the guys. Post-Clear Light, he formed the jazz-rock project Dreams and was part of the rock outfit Riff Raff.
Though Lubahn handled most of the bass on Waiting for the Sun, two other ringers added to the sessions. Onetime Kingsmen member Kerry Magness played on "The Unknown Solider" while jazz band leader and sideman Leroy Vinnegar (Chet Baker, Sonny Rollins, Van Morrison) performed acoustic bass on the atmospheric "Spanish Caravan." Lubahn played bass on three tracks for The Soft Parade; he mostly ceded his position as bassist for hire to a session player with one of the most storied resumes in rock and jazz.
The inimitable Harvey Brooks was hired by Rothchild to bring a new angle to the Doors' sound on The Soft Parade. He ended up laying the groundwork for six tracks, including the propulsive hit "Touch Me." Brooks has been on quite a winning streak before working with the Doors. In 1965, he had been tapped by Al Kooper to join the sessions for Bob Dylan's Highway 61 Revisited, then joined Dylan, Kooper, Robbie Robertson and Levon Helm for some of Dylan's "electric" shows that year. His association with Kooper also led to his involvement in the legendary Super Session album, also featuring Mike Bloomfield and Stephen Stills. Brooks even got a writing credit for The Soft Parade's side-two closer, "Harvey's Tune."
Whether Rothchild's new sonic blueprint or Morrison's lack of interest were to blame for The Soft Parade's ho-hum reception, Brooks was not invited back for future contributions. No matter, he soon teamed up with Mama Cass ("Dream a Little Dream of Me"), John Sebastian and then Miles Davis (for the fusion masterpiece Bitches Brew). He has remained an in-demand session player for his entire career.
In the same Facebook post mentioned above, Densmore notes that the band "changed bass players for Morrison Hotel because it was a different feel. Harvey Brooks is a great bass player (I can't get enough of the live Dylan stuff). I would play with him again in a New York minute! "
With 1970's Morrison Hotel, the Doors returned to a harder-edged sound and, appropriately, reeled in some rock and blues-oriented bass players to play on the record. Ray Neopolitan, who spent time as a member of Joe Cocker's band, handled the bass lines for eight of the LP's songs. Meanwhile, blues guitarist Lonnie Mack (an extraordinarily influential artist in his own right) slummed on bass for two tracks, aiding the blustery drive of "Roadhouse Blues" and the deep groove of "Maggie M'Gill." Mack is also no stranger to first-rate collaboration, having worked with Stevie Ray Vaughan and James Brown, among others.
Listen to the Doors' 'Maggie M'Gill'
The Doors continued to move in a blues-rock direction for the next album (and final outing with Morrison). Alienated by the "cocktail music" sound of "Love Her Madly," producer Rothchild parted ways with the band and was replaced by Bruce Botnick, who had engineered previous Doors recordings. Once again, a new bassist was brought in to strengthen the band's sound.
This time out, the duties fell to L.A. studio man Jerry Scheff, who had not only played on records by Diamond, the Association and the Everly Brothers, but had recently joined Presley's famed TCB Band (Elvis' "Vegas band"). During Presley's year-long hiatus from touring, Scheff spent six weeks at the Doors' Workshop, playing on every one of L.A. Woman's tracks. Jerry delivered everything from the walking bass line to "Love Her Madly" to the undulating low end of "Riders on the Storm."
According to a 2009 interview with Scheff, the sessions went so well that the other members approached him about joining the Doors as a full-time member. But those plans changed when Morrison died within three months of the April 1971 release of L.A. Woman. Scheff would play (on and off) with the TCB Band until Presley's 1977 death and has continued to record with all manner of artists, including another Elvis (Costello), Dylan, Roy Orbison and Richard Thompson.
When the Doors' remaining members decided to soldier on without Morrison, Scheff continued to play a role, recording parts for three tracks of 1971's Other Voices and almost all of the bass tracks for the 1978 "reunion" record, An American Prayer (which featured posthumous vocals from Morrison).
Numerous other bassists contributed to the non-Morrison albums, Other Voices and Full Circle: Wolfgang Melz (Marc-Almond Band), Willie Ruff (Dizzy Gillespie, Miles Davis and Leonard Cohen), Chris Ethridge (Flying Burrito Brothers, Gram Parsons, Linda Ronstadt), Charles Larkey (Myddle Class, Carole King) and Leland Sklar (James Taylor, Jackson Browne, Phil Collins). Los Angeles session player Jack Conrad might have been the most conspicuous of the bunch, playing on a fair amount of each album and joining Densmore, Krieger and Manzarek on tour.
In addition to An American Prayer, the remaining members of the Doors reunited on a couple of occasions, each time with different bassists. Super producer and session player Don Was handled bass duties for the Doors' 1993 induction into the Rock and Roll Hall of Fame (which featured Pearl Jam's Eddie Vedder on vocals). Later, Angelo Barbera -- who had been playing bass in the Robby Krieger Band -- joined the group for VH1's Storytellers, aided by a revolving door of guest singers. Barbera also played in Manzarek-Krieger (initially called the Doors of the 21st Century), before being replaced in 2004 by Phil Chen, who stayed with the group until Manzarek's 2013 death.
In the end, it's true that the Doors didn't have a bass player. They had about 20 of them.
See the Doors and Other Rockers in the Top 100 Albums of the '70s
Here's a Look at Rock's Tragic 27 Club