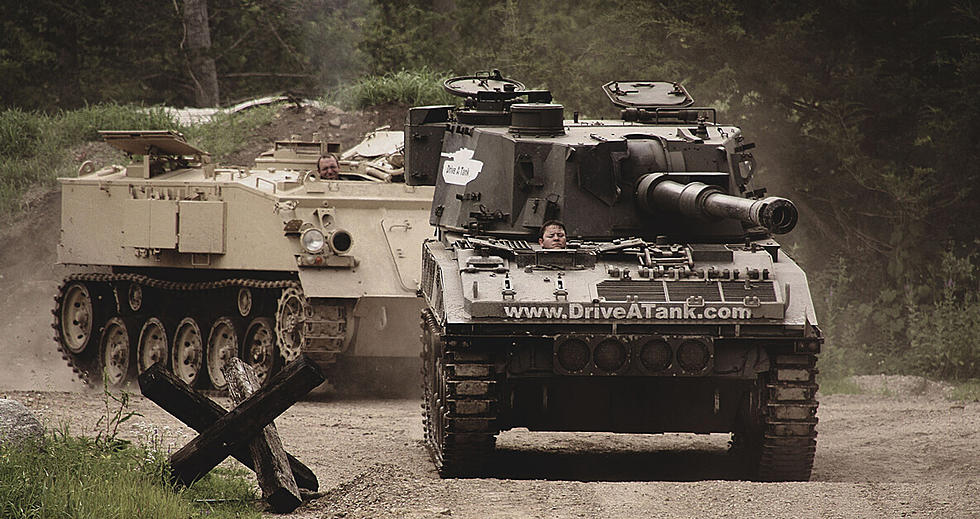 Did You Know There Is A Place In Minnesota You Can Drive A Tank?
Drive A Tank
Some experiences are harder to come by than others. Not just anyone can stand on the sidelines at an NFL game or take a spin around a racetrack. That said, there are a number of niche businesses that offer unique experiences to do cool stuff the average person can't do on their own.
One of those very experiences is driving a tank. Not just anyone has access and training to jump into a tank and take a cruise whenever or wherever they want. There is, however, a business in Minnesota that offers some pretty sweet experiences doing so!
The business, aptly called "Drive A Tank", offers a series of different tank driving experiences that range anywhere from simply driving on a course and operating a machine gun to multi-tank driving experiences or driving over a car or though a house. Sounds pretty sweet, right?
Like almost anything else, it is all just a matter of how much money you are willing to spend for your experience. All of Drive A Tank's experiences come with a safety and history presentation with many of the experiences offering the opportunity for add-ons like driving over a car or two.
The most basic of Drive A Tank's experiences is called their "3 Star Lt. General" experience. It gives you the chance to drive a FV433 Abbott SPG tank through a wooded course and then operate a STEN WWII machine gun all for the price of $349. They offer the ability to add on up to 2 passengers and the chance to drive over one or two cars for an extra cost.
Here's a little video preview of the 3 Star experience.
If you're looking to keep your experience under $1,000 but want a little more than the base, the other option is their "4 Star General" package, which gives you and a friend the opportunity to drive a FV433 Abbott SPG and a FV432 APC and operate three different machine guns for $599 with the option to add stuff on.
Here's a video preview of the 4 Star experience.
While there are a number of different options and customizations to packages along the way, the top-tier experience they offer is called the "Ultimate Package", which gives you and a friend the opportunity to cruise in a FV433 Abbott SPG, FV432 APC, Russian T-55 MBT, British Mk 5 Centurion MBT, Sherman E8 with head exposed, and Sherman E8 with the hatches closed and viewing through the periscope. This also includes two cars to crush and operation of 13 different machine guns. Sound like fun? Better save your pennies. The top-of-the-line package will set you back a cool $5,499.
One of their add-ons mentioned on their site is the opportunity to truly embrace your destructive side. Drive A Tank's website describes this mobile home destruction experience as as something where the goal is "to leave nothing standing". The experience includes a "pre-smashing" where you can let off a little steam on the interior of the building with hand-held smashing devices before you drive through the structure with a FV432 APC tank. They don't list pricing for this experience, but rather direct you to contact them for this "rare opportunity to make a huge mess".
A video production crew smashed a house with a tank at Drive A Tank as part of a video shoot, giving you a small taste of what the experience can be like.
If you're looking to check out the Drive A Tank experience, you'll find it in Kassota, just  north of Mankato on Highway 169. See the location on a map here.
12 Things Minnesotans Do That Seem Weird To Everyone Else
10 Words & Phrases You Will Only Hear In Minnesota And Wisconsin