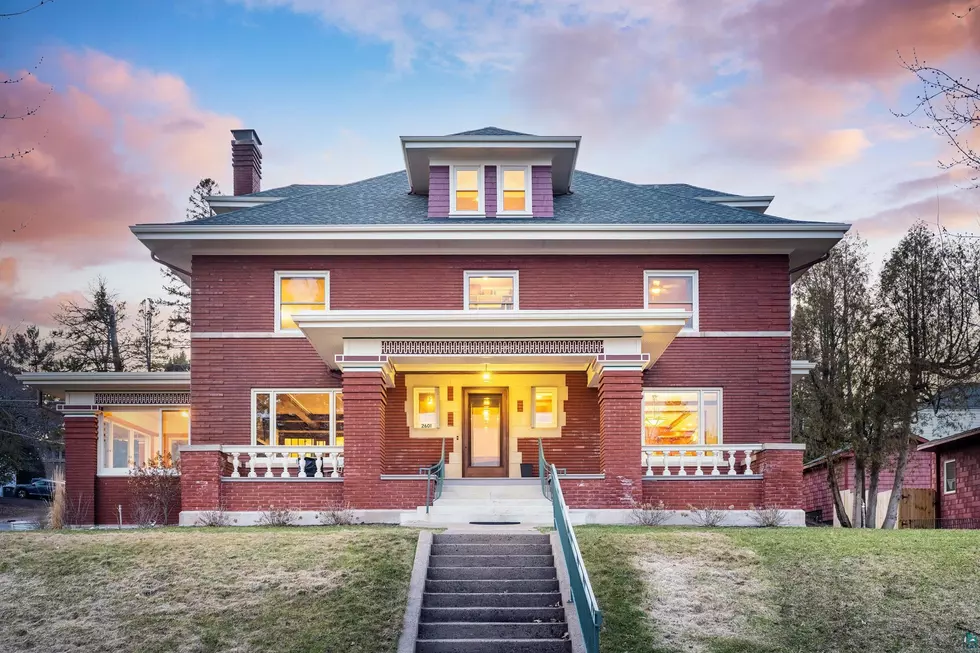 This Duluth Prairie School Foursquare Features Surprise Extra Living Space
Dan Jandl 7 Bridges Realty
Originally built in 1914 for the Lute Family, this Prairie School Foursquare in Duluth is totally modernized and remodeled, with a hidden guest area or apartment space.
According to the listing, the current owners have upgraded to all the latest features, including the home being environmentally friendly, energy-efficient, and remodeled. This beautiful historic home has oak hardwood floors and a grand staircase right as you walk in.
The listing says the living room features a wood-burning fireplace with brick and tile combined with natural wood. There is plenty of natural light with the many windows, and take a look at the view too.  You can also get a peek at the adjoining garden and sunroom.
In the listing notes, it says the dining room features historic-looking stained glass windows and some oak built-in hutches. This house could be used for large gatherings or just for entertaining for any occasion. The open area leads into the kitchen that was remodeled by J.R. Sundberg. The kitchen features beautiful oak cabinets, hardwood floors, big windows, quartz countertops, a farmhouse-style sink,
If you look further there is a 6 burner cooktop with a stainless steel hood, double ovens, a built-in microwave, an oversized refrigerator, and even a cappuccino machine. I could stop there and you would already feel spoiled.
The listing says the primary bedroom has a partial lake view, gas fireplace, and walk-in closet. Also on the second floor are 3 other bedrooms, 3/4 baths, and a laundry area. The third story is a lot of open space with lots of light, and a partial lake view.
The listing says there is a carriage house apartment for extended family, friends, or tenants. The extra dwellings are somewhere you would never expect. Venture to the 5th bedroom and there is a full bath.
Believe it or not, the listing says it is located near shopping and dining, near UMD, Longview tennis courts, schools, and hospitals. The house is located at 2601 East 6th Street in Duluth. When you see the last few pictures it has a great location and a great view.
Check Out This Prairie School Foursquare In Duluth With Surprise Extra Space
Then + Now: See How Much Superior Street Has Changed Over The Years
Superior Street, one of Duluth's main roads, has a rich story spanning over the history of the city. Here's how things have changed over the last several years.