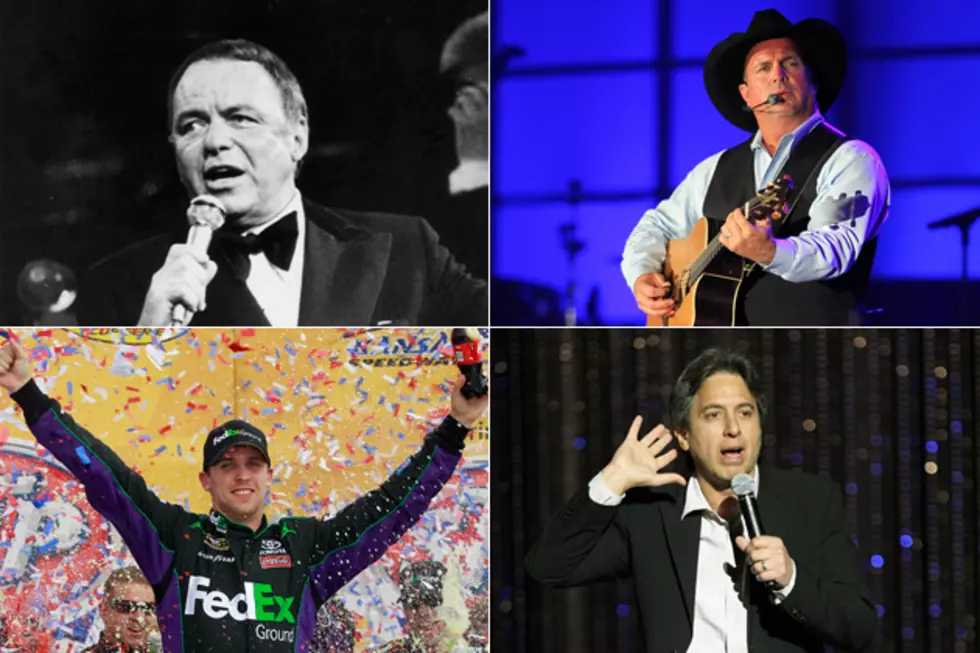 Celebs of All Kinds Get Involved With St. Jude Children's Research Hospital
Joe Bangay, Adam Bettcher, Jerod Harris, Chris Graythen / Getty Images
Over the years, many people in the public eye—including actors, NASCAR drivers, musicians, political leaders, supermodels and more—have gotten involved with St. Jude Children's Research Hospital.
Even decades ago, during fund-raisers for St. Jude, stars like Frank Sinatra, Dean Martin, Elvis Presley, Sammy Davis Jr., Dinah Shore and Jack Benny helped raise awareness about St. Jude. This is due largely to St. Jude's founder, Danny Thomas, who had a lot of friends in the entertainment industry.
That tradition continues to this day. Notably, Country Cares began in 1989 as a way for country-music stars and radio stations across the country to flex their fund-raising muscles for the charity. In that time, featured performers have included Clint Black, Faith Hill, the Dixie Chicks, Tim McGraw, Garth Brooks, Brooks & Dunn, Charlie Daniels, Martina McBride, Travis Tritt, Keith Urban and Trisha Yearwood. In that time, Country Cares has raised over $400 million for St. Jude.
Amy Grant, in particular, has done a great deal for St. Jude, even sponsoring the music room at the Target House. "Music is such a fundamental part of my life," she said. "Sharing it with the children being treated at St. Jude is truly gratifying for me, as an artist and as a mom."
Numerous major political figures—George and Barbara Bush, Hillary Rodham Clinton, Elizabeth Dole, Harold Ford Jr., Richard Gephardt, Al Gore, Fred Thompson and the late Gerald Ford—have also visited St. Jude or participated in one of its efforts.
NASCAR drivers Denny Hamlin, J.J. Yeley, David Stremme and Kenny Wallace started Racing to Save Lives, which encouraged racing fans to donate to the charity and to support their favorite drivers. After Hamlin visited St. Jude, he said, "This place is going to stay with me for a long time to come. The relationships I've built with some of these kids, really puts a special place in your heart for them."
Hollywood actors have also visited the center to get an up-close-and-personal look at all the hard work and meet some of the kids. Tim Allen, Jim Carrey, Ray Romano, Robin Williams, Daisy Fuentes, Laura Dern, Danny DeVito, Dennis Quaid, Danica McKellar, Anne Hathaway, Jennifer Love Hewitt, Tina Turner and Steven Seagal, among others, have come by St. Jude and gotten a chance to observe what goes on and see how they can help.