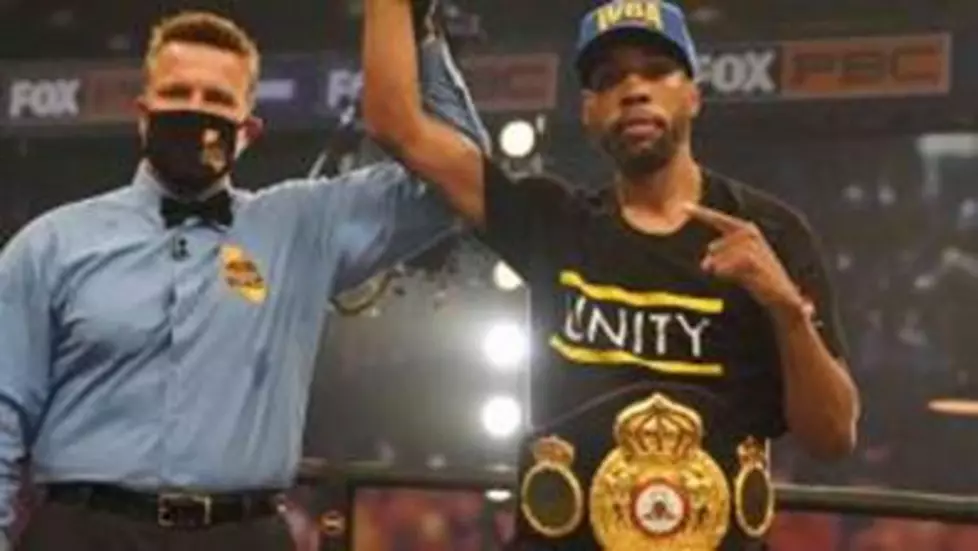 Boxer Jamal James Wants To Say Thank You To Barnum
picture supplied by leer media
This is a great story that shows how great Northland People are.
Last Spring, two pro boxers from Minneapolis, Jamal "Shango" James and David Morrell Jr started training for an upcoming WBA world boxing title championship fights at the Circle of Discipline Boxing training facility in Barnum. The card was scheduled for April at the Armory in downtown Mpls. Then in Mid-March the Governor of MN issued Stay at Home Orders. What to do next?
Their choices were to stay in Barnum and continue training so they are ready when the fight of a lifetime is rescheduled, or do they close the camp and retreat back to Minneapolis?
Jamal James is 32 years old and not sure when his next shot for a world title would come, so,  his team made the decision to stay in Barnum. The decision meant he would need the help of local people and businesses.  they would have to stay open and support his focus and dream so that he could continue training.  The boxers required basic necessities like access to local groceries. They also needed meals catered from local restaurants, accessibility to the local laundromat,  and medical professionals in case they'd be required.
That's where they found out what Barnum and Northern people are made of. Everyone stepped up and supported the training of these fighters, they helped with meals and got to know these guys while they got into the world-class shape they would need to be in.
Enter your number to get our free mobile app
Their title fight was rescheduled for August. They were in shape and ready to fight because of the help they received they both won their fights. They both are so grateful for the help and support that the Barnum and Moose Lake area have been they are inviting people to come by for a victory party and thank you party.
Social Distancing Media Event At-A-Glance
Who:  Welterweight Jamal James / Super Middleweight David Morrell Jr
Why:  Community Appreciation and Celebration Event
When:  Tuesday, October 27 @ 1130am
Where: 3857 Main Street, Barnum MN 55707 -- training gym of Circle of Discipline Barnum.
Directions:   Traveling on I-35W north or south, take Barnum Exit. Circle of Discipline Training Camp is less than 1 mile off the exit in downtown Barnum.
Open House Schedule: 11 am to Noon PBC Boxers finish morning training sessions - great b-roll opportunities; Noon to 1 pm – Fighters News Conference & availability for one on one interviews.
7 Ways People Are Wearing Masks Wrong