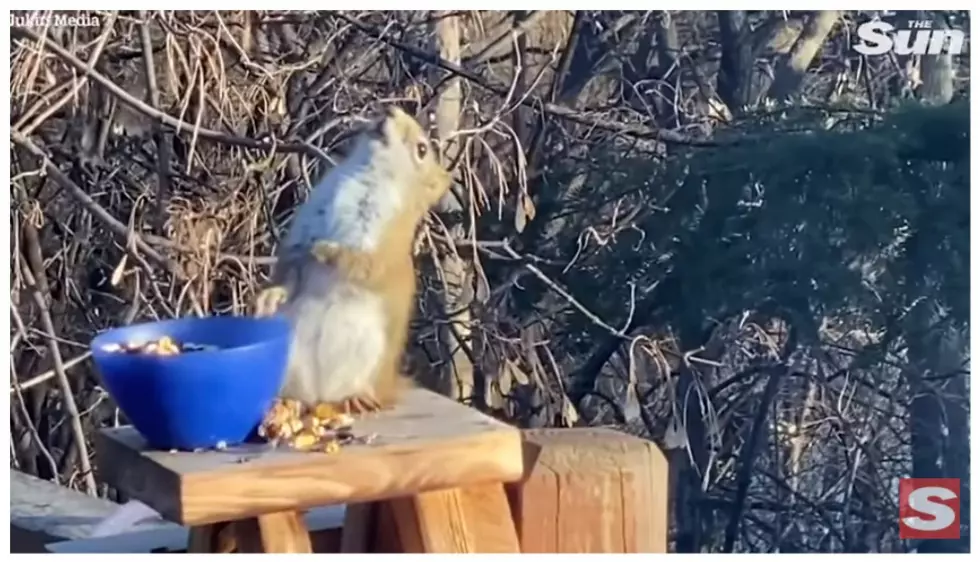 WATCH: Minnesota Woman Captured Video Of A Drunk Squirrel In Her Backyard
Photo: The Sun Via YouTube
A woman in Inver Grove Heights caught a local squirrel in quite the predicament. He or she was hammered drunk from eating fermented pears that had been left out in her back yard. Like many people around the world, Katy Morlok has been stuck working from home, and so she started feeding the squirrels to give her something to watch out the window while she was working.
But of course she had no intention of getting them drunk. Merlok was cleaning out her refrigerator when she came upon some pears. So she looked online to see if they would be harmful to squirrels to eat which they are not. So she put one of the pears in a bowl she keeps on the deck to feed her animal friends. One of the squirrels she named "Lil Red" grabbed the pear out of the bowl and ran up the tree.
About an hour later the squirrel had reappeared and was acting kind of funny. Merlok said to FOX9 :
And then it kind of dawned on me…oh no, those pears were so old I bet they fermented. And then he got drunk and I did not mean to do that so I went out and I grabbed all the pears.
Enter your number to get our free mobile app
She had put more outside since the squirrel seemed to like them, but of course now realized she could have a bunch of drunk squirrels all over her yard. Morlok said she was really worried about the poor little squirrel, but he appeared the next day to enjoy a hangover breakfast. Not surprisingly the video has gone viral, and I have to admit I can't stop watching it. Too funny.
7 Things To Have In Your Outdoor Survival Kit