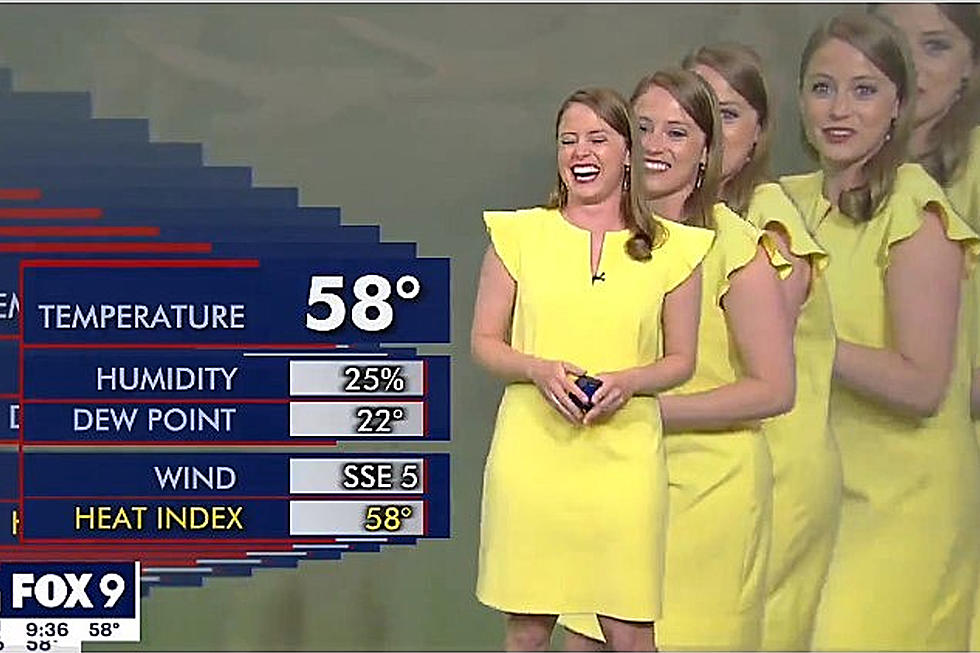 A Minnesota Meteorologist Got The Giggles During Her Forecast, Tweet Has Gained National Attention
FOX 9
Jennifer McDermed is a Meteorologist on FOX9 in Minneapolis and recently had a glitch of sorts happen during her live broadcast. Like all of us know being in broadcasting you never know what is going to happen and just always need to be prepared for Plan B. Of course being on the radio it is a lot easier when something gets messed up nobody can see us running around trying to fix it.
Jennifer is originally from Kansas and when she was younger she was filling out an assignment describing what she wanted to be when she grew up and she drew a cow flying around in a tornado. Seems pretty legit to me. Having moved to Minnesota in January 2018 she now has kinds of crazy weather to report.
As reported by  Bring Me The News, during her forecast on live TV May 11 McDermed noticed that her image kept replicating on screen. Of course she was a little thrown off as she is trying to do the weather but her image kept taking up the whole screen and aas she moved it kept duplicating. She of course starts laughing and decided to make a little dance out of it. I love the comments form all the people off set, like she has any control over what is happening.
Her hilarious reaction caught the attention of a bunch of news outlets across the country like Good Morning America, FOX News and The Tonight Show With Jimmy Fallon where he laughed and  said the screen looked like when you used to win a game of solitaire on the computer. i agree that her facial features and laugh are the best part of the video. Good for her that she rolled with it and it ended up stopping almost as soon as it started!
14 Of The Most Minnesota MNDOT Messages
13 Photos Every Minnesotan Has Taken At Some Point