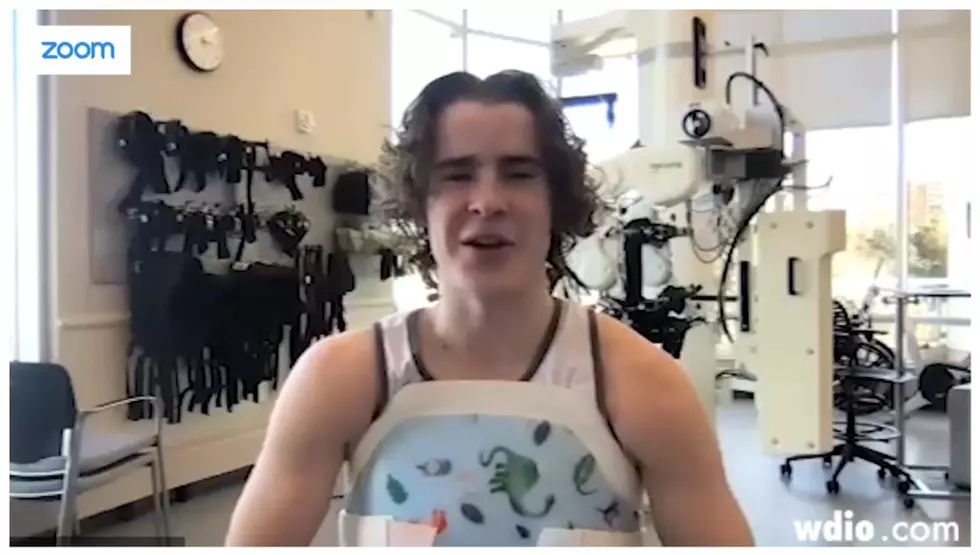 A Duluth Teenager Severely Injured In A Skiing Accident Is Making Great Strides In His Recovery
Photo: WDIO
On January 18 2021 Mason Branstrator's life changed forever as he suffered a severe spinal cord injury out at Spirit Mountain in Duluth. Masons girlfriend was with him at the time and was helpful in getting him aid quickly.
According to his Caring Bridge site "initially after his injury he had some sensation in his legs prior to surgery. Post-surgery, he has increased sensation but he cannot move his legs. "
Now fast forward seven weeks and Mason can extend his right leg at the knee. Mason is currently staying at Craig Hospital in Denver Colorado where he is undergoing intense rehabilitation. The staff are using all sorts of state of the art equipment to help him stand, works his muscles to keep his legs moving and also trying to improve his upper body strength. He also has occupational therapy which is assisting him with maneuvering a wheel chair.
Through it all mason has tried to keep up a positive attitude saying:
Little progress is really just huge progress in the grand scheme. It's only been a month and half. This will really take a year to fully see through, and even well past that, there's going to be recovery. It's not going to happen in a matter of months, but it is happening. That's what I want people to know.
Mason's mom has said that how he has made strong friendships with other kids and their families who are there as well and how a type of kinship has developed. She also wanted to Thank all the people back here for their love and support.
Before I got into radio I worked on a disabled young adult unit with many kids like Mason, spinal cord injuries in the prime of their life. Part of my job was to help them learn to navigate in the community while being in a wheelchair. It was challenging for them but so rewarding to see there success. Mason is an amazing guy, he is handling this in such a mature fashion, better than some adults for sure. Keep working hard, we are all cheering for you back home. Here is the link to Mason's Go Fund Me Account.
12 Things That Define Duluth And The Twin Ports
10 Songs That Make Northlanders Happy