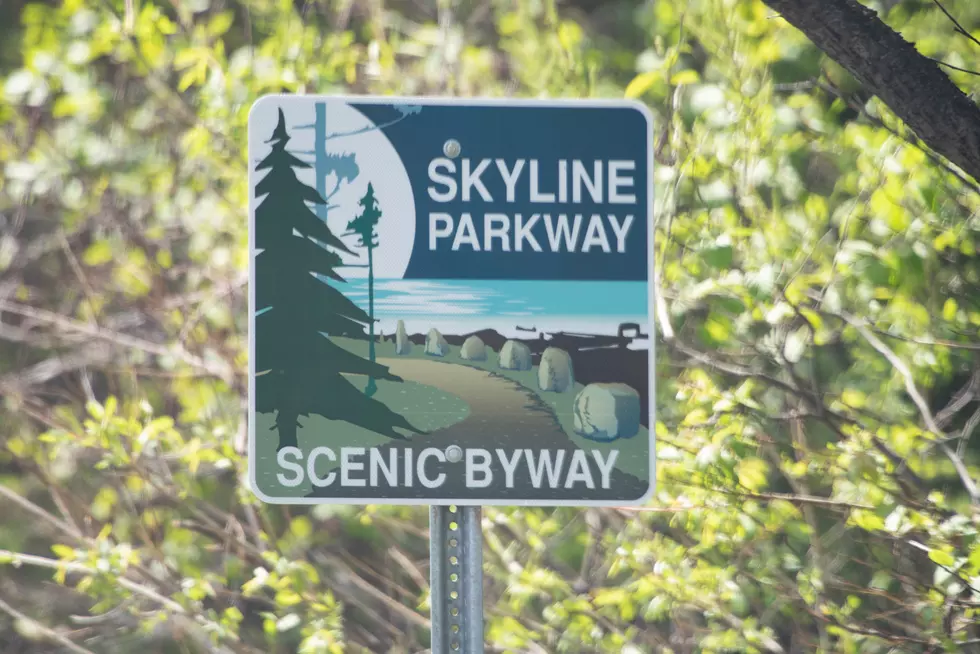 11 Bad Online Reviews Of Skyline Parkway In Duluth
Nick Cooper - TSM Duluth
The scenic views from Skyline in a big part of Duluth. Canal Park is such a huge part of  From tourists to locals, Skyline always has people enjoying the view or taking some sweet scenic pics.
Skyline Parkway is dubbed by the city as one of Duluth's treasures. the parkway  showcases the city from end to end with some pretty great views of our beautiful city and Lake Superior. There are many overlooks along the way so people can get the most out of the views.
The cool thing about Skyline, is there are also many parks and trails along the way where you could go hiking, cross-country skiing, bird watching, and more. You could even do a virtual tour here.
Since it was a popular destination, especially with fall colors coming in, I had to see how people reviewed the location on TripAdvisor. While scoping through all the reviews, there were quite a few typos - so heads up for that. Most of the reviews were pretty good, but there was some negative feedback. Here are some of the worst reviews I found for the area.
11 Bad Online Reviews Of Skyline Parkway In Duluth:
Totally disappointed in Duluth
"Even though the parkway afforded some awesome views, it was hard to find, as direction signs were covered up by unkept brush and Duluth street names had the habit of changing every few blocks. This is a real bummer when you looking for the parkway halfway up a steep hill. The worst thing was the fact that all the overlooks were filthy, with piles of garbage, urine and other disgusting debris." - Dan M
---
Let down
"We made a good attempt at this drive but mostly ended up wasting our time. Big sections of it were under construction or went through town and signage is sparse, if present at all. We made several attempts to reach the bird sanctuary but couldn't find it, also probably because of all the construction. Enger Tower ended up being the only worthwhile stop. There were also a couple of overlooks that could have been pretty, but they were overgrown. It would have been nice if the website had noted all the work being done. It would have saved us a couple of hours and we could have spent the time down at the waterfront where there was more than plenty to do." - Beentheredonethat777
---
No view in summer
"We saw no view on the stretch we drove. The trees were too leafed out." - Cheskabrit
---
Nice views but terribly marked, bumpy, etc. Not worth it.
"My wife and I did a two week tour of several cities in Minnesota, including Grand Marais, Duluth & Hibbing. We were up there to escape the Florida heat and didn't really know what we were going to do, but turned out to have a really great vacation. Please see my other posts regarding lodging, meals, etc. if you are interested in a similar trip.
We got rained out on our last day in Duluth and figured we'd take a little drive. Despite having a map & GPS with us, we kept getting lost. The parkway was barely marked. We'd get to an intersection and there would be no signs. So we'd drive around a little bit, find our way to the next intersection or section of the parkway and there would be a sign along the road but nowhere useful. Plus half the roads were in terrible condition. Some of the views overlooking Duluth and the lake were nice, but not worth the time for us." - UF_RX_1999
---
Closed
"I was very disappointed that a major portion of the Parkway is still closed. I am not sure how long it has ben closed but it seems like at least a year" - 1DaKa
---
fog!!!
"being a first time visitor we were excited to see the skyline but maybe it was timing but fog was there our whole trip" - redgreenmm
---
Only so-so to me
"The drive is several miles (Duluth is a long city), but the places to see out are limited. I'm not sure it was worth my time. It didn't help that there was fog on the lake, which limited how far I could see off the shore." - Kent M
---
Hard to follow and confusing
"Has some fantastic views but the signage is too small and not placed well ahead. The major intersections and merging roads are hard to navigate. But the views from the two overlooks we found are fantastic and very panoramic. We missed the Enger tower entrance because we did not see a sign to it." - TravelbyFrank
---
Can be busy and dangerous
"While the views here are awesome, people drive like idiots and there always seems to be someone going way too fast on this road. There's a mix of bikers, runners, picture takers and cars and not a lot of extra room on the road. This makes for what I feel is a dangerous mix. If you can secure one of the pull off spots, you will be rewarded with an awesome view of the harbor. Just be very careful and on the lookout for other drivers cutting across the centerline." - FamilyDad2013
---
Decent drive, but didn't seem very bike or pedestrian friendly.
"nice view, but wish I could have walked it or biked instead to see things better. Stop at Enger Park/Tower, that's worth the drive." - Garner M
---
Hard to follow the parkway. Streets not too well maintained.
"We drove on the eastern part of the Skyline Parkway and could not follow it very well and the roads were not very well maintained. It winds around the hillside of Duluth and it is hard to figure out if you are still on the parkway or not. There wasn't much of a view either. We did not go on the western part of the parkway so that may be better." - Rich J
---
12 Bad Reviews Of Canal Park In Duluth
11 Bad Reviews Of The Aerial Lift Bridge In Duluth