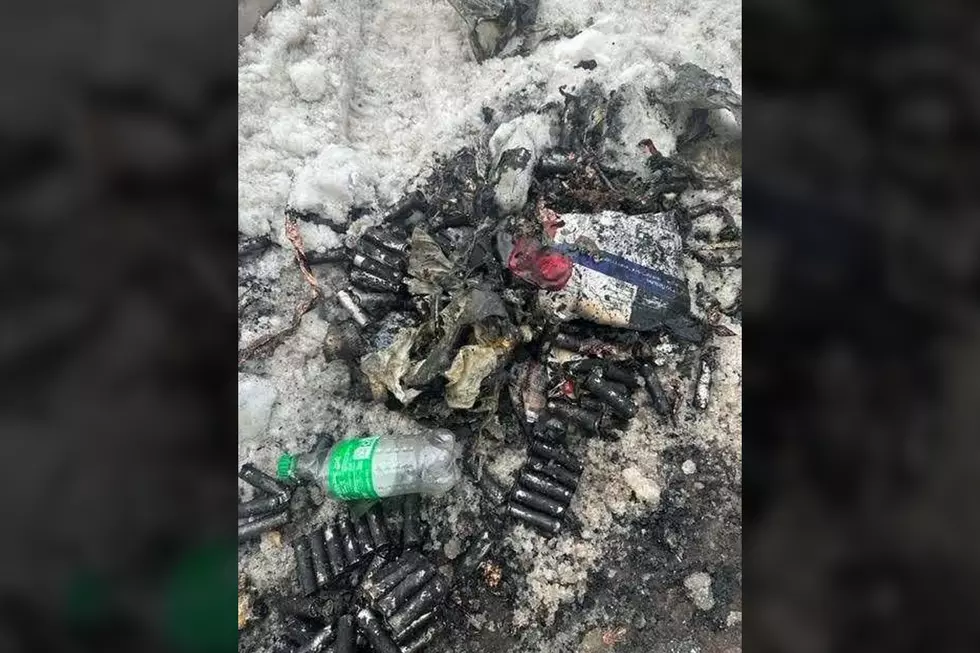 WLSSD Issues Warning To Duluth Area Residents About Rechargeable Battery Disposal
WLSSD
The Western Lake Superior Sanitary District (WLSSD) issued a reminder to the public this week about the proper disposal of rechargeable batteries following a fire in a garbage truck this week.
In a post to the WLSSD website on Thursday, January 26, they explained that a garbage fire on Tuesday of this week in Lincoln Park was due to the improper disposal of rechargeable batteries.
The driver of a Hartel's Disposal truck noticed his load smoldering on Tuesday while operating in Duluth's Lincoln Park neighborhood. The operator was forced to dump a truckload of trash bags onto the ground, and firefighters had to be called to the scene because the on-board fire extinguisher on the Hartel's truck wasn't enough to put out the fire.
The culprit behind the fire was lithium-ion rechargeable batteries, which were leading to sparks "flaring out like fireworks". As WLSSD explains, lithium-ion batteries are very common in our modern lives. They're found in cell phones, battery-operated power tools, laptop computers, vapes, scooters, and numerous other devices.
While generally safe when in proper working order and used under correct conditions, lithium-ion batteries can lead to hazardous fires in certain situations. According to OSHA, some of those include exposure to high heat, improper charging or charging in cold (below freezing) temperatures, or physical damage to components of the battery itself.
This week's fire adds to a list of rechargeable battery-related fires for WLSSD, including two at their transfer stations in the last year. The photo below shows what was found in one of their transfer fire incidents, after sorting through the materials. You can see some charred papers and materials next to power tool batteries and other materials.
These types of fires can be dangerous, but WLSSD says they are preventable. Knowing how and where to dispose of different types of batteries is very important. Not only due to concerns of fire, but also due to the chemicals inside the batteries. Here's what WLSSD says about the disposal of different types of batteries:
Can be disposed of in normal household trash
Standard alkaline batteries (AA, AAA, C, D, and 9 volt) can be disposed of in normal household trash.
Must be brought to WLSSD's Household Hazardous Waste Facility
Button batteries like those found in watches, hearing aids, and other small devices.
Lithium and lithium-ion batteries, which present a combustion risk.
Other rechargeable batteries like nickel cadmium, nickel metal hydride, and small sealed lead acid batteries contain heavy metals that can be harmful to the environment.
If you aren't sure of the type of battery, WLSSD encourages you to contact them via phone at 218-722-3336 or via email with a photo of the mystery batteries at  info@wlssd.com to ensure of proper disposal.
If you know you have batteries that need to be brought to the WLSSD Household Hazardous Waste Facility, you can find out more about this and other types of disposal sites for various materials on their website.
LOOK: The most extreme temperatures in the history of every state
Stacker
consulted 2021 data from the
NOAA's State Climate Extremes Committee (SCEC)
to illustrate the hottest and coldest temperatures ever recorded in each state. Each slide also reveals the all-time highest 24-hour precipitation record and all-time highest 24-hour snowfall.
Keep reading to find out individual state records in alphabetical order.