Final Snowfall Totals for April 3 and 4, 2014 Snow Storm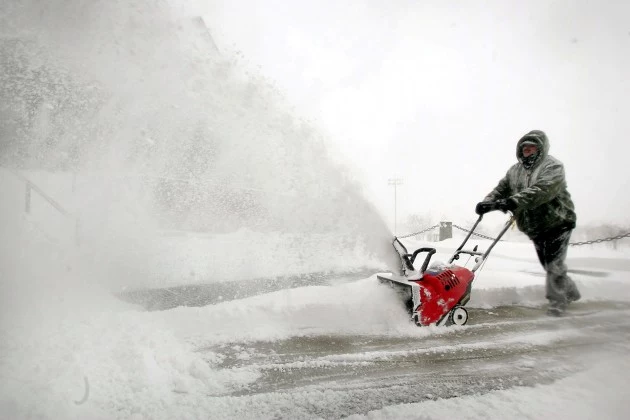 The 2013-2014 winter season has been creeping further up the list of the top 15 snowiest winter seasons on record. With a significant snowstorm wrapping up the first week of April, this winter jumps up a few rungs on the ladder of winter records.
The final snowfall total at the Duluth Airport (the official National Weather Service measurement location) from this most recent storm was 9.4 inches, making the 2013-2014 winter season the 7th snowiest on record for Duluth.
The last round of snowfall totals from around the region (as of 6:30 pm Friday) are as follows: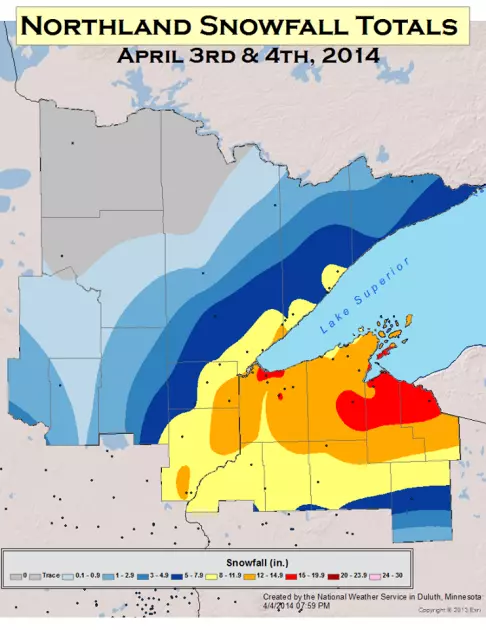 Minnesota
Holyoke – 15 inches
Two Harbors (6 miles W) – 12 inches
Wrenshall – 11.2 inches
Duluth (Lester Park) – 11 inches
Kerrick – 10.5 inches
Two Harbors (5 miles N) – 10 inches
Sawyer – 9.6 inches
Duluth Airport (NWS) – 9.4 inches
Silver Bay – 9.3 inches
Island Lake – 9.1 inches
Cloquet – 8.5 inches
Moose Lake – 7.6 inches
Duluth (Central Hillside) – 6.5 inches
Esko – 6 inches
Alborn – 3.5 inches
Wisconsin
Superior (5 miles SE) – 17.8 inches
Ashland – 17 inches
Poplar – 14.5 inches
Maple – 14.5 inches
Superior (7 miles ESE) – 13.3 inches
Pattison State Park – 13.1 inches
Cornucopia – 13 inches
Washburn – 12.9 inches
South Range – 12 inches
Bayfield – 9.5 inches
Solon Springs – 7 inches