'Get Your Heads and Egos Out of Your A–!' – Kiss Called Out For Failure To Reunite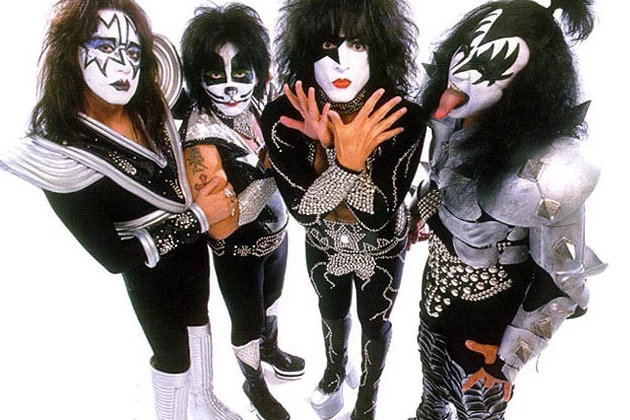 Metal guitarist Chris Impellitteri is calling out the remaining founders of Kiss after Ace Frehley confirmed that the band's original lineup will not perform as part of its Rock and Roll Hall of Fame induction.
Paul Stanley and Gene Simmons initially started Kiss some four decades ago with Frehley and Peter Criss. They currently tour, however, with guitarist Tommy Thayer and drummer Eric Singer, who wear the makeup designs made famous by their predecessors. Frehley initially left in 1982, while Criss departed in 1980. They both were part of a subsequent reunion between 1996-2002, when all four original members toured together. Frehley split again in '02, and Criss followed in 2004.
Now Impellitteri, who fronts his own eponymous metal band and has also been part of Animetal, took to Facebook to voice his opinion over Kiss' failure to recreate the band's best-known lineup for this special occasion: "Get your heads and egos out of your a–!," he writes. "FYI — your band is being inducted for the body of work that you created with Ace and Peter, and yes many other studio musicians! Thus, you should honor your fans."
Thayer joined Kiss after Frehley's departure in 2002, while Singer, who was also in the group for half of the '90s, has been drumming since '04. Still, at one point, it looked like a Hall of Fame reunion of the band's original cast was going to happen. But then Frehley said he would only perform in his iconic Space Man makeup if Thayer did not during the ceremony. Stanley was later quoted as saying the rumored reunion had become "unlikely."
Kiss revealed earlier this morning that they would not be performing at the ceremony "in any lineup," and Criss has weighed in as well — calling the entire situation "disgraceful."
Impellitteri adds: "Gene, you often say in your press releases that you are going to teach all of the new bands how the big boys do it on stage. So be a big boy and work out your issues with the other two original members and show the new bands how it is done honorably."
Source:
'Get Your Heads and Egos Out of Your A–!' – Kiss Called Out For Failure To Reunite