Kiss and Def Leppard Set to Announce '2014 Heroes' Tour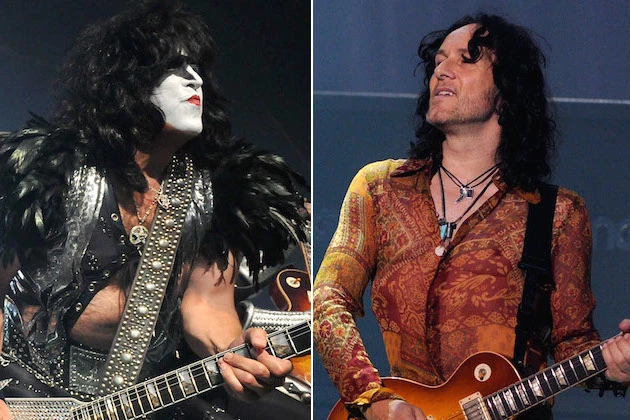 Def Leppard and Kiss will join forces for a summer 2014 tour, in what is expected to be one of the year's biggest classic rock events of the year.
Updated 3/16: Kiss and Def Leppard will make a "major announcement" regarding what's being called the '2014 Heroes Tour' at 2PM ET on Monday, March 17. The proceedings will be streamed live at LiveNation.com. According to a press notice, the tour will "help change the lives of veterans and military families across America."
Asked by TicketsThere about possible dates with Kiss and Poison, Leppard guitarist Vivian Campbell quipped: "I'd say you'd be half right there, but only half right and half wrong."
Poison's Bret Michaels mentioned a tour with Def Leppard while onstage last summer, according to the Kansas City Star; the two bands previously appeared together in 2012. Poison bassist Bobby Dall then hinted at joint dates with Def Leppard and Kiss this summer during a February interview at NAMM. However last week drummer Rikki Rockett said Poison would not be touring this summer, while laying the blame on a bandmate he chose not to identify.
All of this will be sorted out very soon, Campbell says: "There will be an announcement of our tour imminently, we're talking a matter of days. It has to be announced, because we're almost at summertime."
Def Leppard did not mount a major tour last summer following its well-received 'Viva! Hysteria' residency in March and April at Las Vegas, playing only a handful of North American dates. The band will return to Vegas later in 2014, this time to focus on 'Pyromania.'
Campbell, who rose to fame with Dio before joining Def Leppard in the early '90s, did say that a tour into Europe seems unlikely this year – though he left open the possiblity after their next studio effort is complete. "Most likely if we get this record finished for next spring that would see us doing a world tour of sorts — whatever that means nowadays."
Source:
Kiss and Def Leppard Set to Announce '2014 Heroes' Tour