5 Spooky Celebrity Ghost Sightings
It's always sad when a celebrity passes away, but sometimes these strong-willed, vibrant personalities live on long after they have shuffled off this mortal coil. Here are 10 famous folks reportedly still hanging around even though they were "no longer with us."
Elvis Presley
The King of rock n' roll is one busy spirit! Presley is known to haunt Graceland as well as appearing to stagehands in his famous white sequined getup at the Vegas Hilton, where he used to hold frequent performances back in the 1970s. Elvis has also made a ghostly appearance at the old RCA recording studios from the 1950s, which is the site where he recorded his first hit 'Heartbreak Hotel.' Even though it's not a recording studio anymore, the building is still used as a TV studio for music-related productions. Many workers have reported strange occurrences anytime someone brings up Elvis, such as unexplained noises on the sound system and the lights going out.
Marilyn Monroe
The blonde starlet is known to haunt the Roosevelt Hotel in Hollywood and likes to scare the bejeezus out of poor unsuspecting guests by appearing to them in a full-length mirror. This ghost also gets around too: she's been spotted hanging out by her tomb in the Westside Memorial Cemetery in Los Angeles, California. The belief that ghosts like to appear in the place where they passed away seems to be true in her case: Marilyn has also made her ghostly presence known in the very house where she fatally overdosed on sleeping pills in what the coroner would go on to call a "probable suicide."
Lucille Ball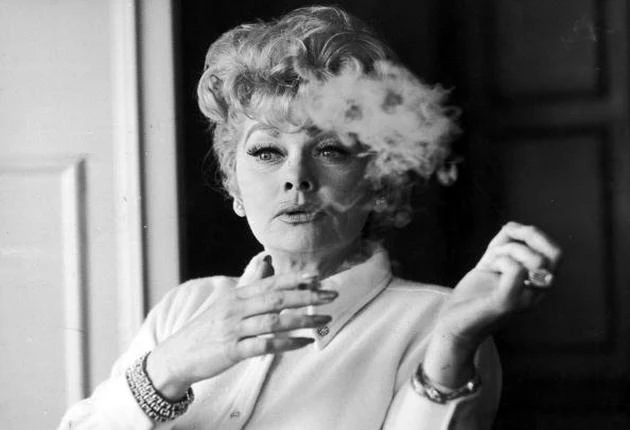 Owners of the house where the 'I Love Lucy' stuff passed away at the age of 77 complain that there have been spooky happenings: broken windows, furniture rearranging itself and items that disappear and reappear to be mysteriously found later on in the day. Also, they say that it sounds like there's a party going on in the attic: loud voices are often heard emanating as if they were talking over loud music.
George Reeves The 'Superman' star still reportedly haunts the home where he allegedly committed suicide/was possibly murdered depending on who you believe. They say that they have heard strange noises coming from the room that used to be George's bedroom, and one time when a film crew was shooting in the house for a documentary, he appeared to them in full Superman attire. Up, up and…get me out of here!
Lon Chaney, Sr.
The 'Phantom of the Opera' star passed away in 1930, but much like his character, the senior Chaney is still hanging around to this day! His spirit has been seen at Sound Stage 28, which is where they filmed 'The Phantom of the Opera.' It's rumored that his ghost likes to make appearances wearing a cape on the stage, and it's also been blamed for the lights going on and off by themselves, as well as doors that open and close for no reason whatsoever. No word on whether he breaks into the chorus of 'Music of the Night.
Source:
5 Spooky Celebrity Ghost Sightings